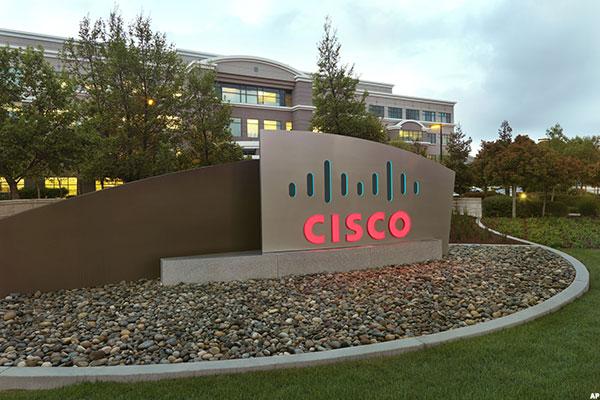 While Cisco Systems (CSCO - Get Report) built its name on routers, switches and network hardware, the Silicon Valley icon has rebooted its strategy in recent years to focus more on software. The San Jose tech giant is learning to code, and has acquired a slate of software properties to gain footholds in strategic markets.
"We've announced 14 acquisitions over the last 12 months,"Rob Salvagno, vice president of corporate development and M&A head, said in a recent interview. "Of those, 10 were software-centric."
Cisco has not pursued mega deals like Dell's $67 billion purchase of EMC or Intel's (INTC - Get Report) $16.7 billion purchase of Altera, but has been a consistent buyer through bear and bull markets of smaller companies. Among recent deals, the most substantial include the $2.7 billion purchase in 2013 of cyber security outfit SourceFire; the pending $1.4 billion acquisition this year of Jasper Technologies, which develops software for networked devices and machines, or the Internet of Things; the $700 million purchase of video conferencing and communications tech company Acano last year; and the $635 million purchase of cloud security provider OpenDNS, also last year.
Salvagno said the acquisitions play to six areas of "market transition" or "key disruption" that represent strategic hot spots for Cisco: data centers, cloud computing, security; the Internet of things, or the growing realm of machines connected to the Internet; data analytics and core networking technology.
"Software tends to be at the core of the key priority areas," he added. "If we want to use M&A to capture those transitions it will likely be a software company or a software-centric company."
While seeking positions in disruptive markets, Cisco is also increasing its recurring revenue, which are more stable than one-time sales and produce greater clarity into future results. The combination of legacy and high-growth businesses do not always sit well with investors in public Silicon Valley tech groups, however. As software becomes a larger part of its business,
Cisco may encounter a dilemma that tech groups including HP (HPQ - Get Report) , Symantec (SYMC - Get Report) and eBay (EBAY) have faced, often at the point of activist pressure: whether the business would be more streamlined, and worth more, if broken up.
To be sure, Cisco has made more than 180 acquisitions in its more-than 30 year history. But in the past, most of those involved hardware. No longer.
CEO Chuck Robbins, who succeeded John Chambers last July, has championed the role of deals as Cisco has migrated from a mostly hardware business to a software and subscription model. "If you look at the acquisitions we're making as an example, almost all of them without exception are recurring [software as a service], cloud, licensing models," Robbins said at a Goldman, Sachs & Co. conference earlier this year.
To be sure, investors have fled Cisco shares becomes the company did not seem as "software-oriented" as some upstart rivals, but analysts note that its CEO is out to reverse that perception. "Chuck Robbins has heard those critics and he is reacting to them with alacrity," said TheStreet's Jim Cramer, manager of the Action Alerts PLUS portfolio, which owns Cisco. "He's made a series of acquisitions that will boost growth along these lines."
Exclusive Look Inside:
You see Jim Cramer on TV. Now, see where he invests his...
More