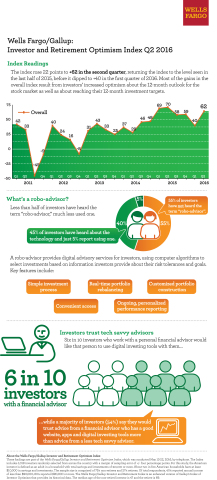 ST. LOUIS--(BUSINESS WIRE)--Prior to the British vote to exit the European Union, U.S. investor optimism had rebounded in the second quarter, following a rocky first quarter for the markets, according to the second quarter Wells Fargo/Gallup Investor and Retirement Optimism Index survey, conducted May 13-22 with 1,019 U.S. investors, who have a total of $10,000 or more in savings and investments.
The survey also reveals investor attitudes about digital advice solutions and adoption of digital and technology tools by financial advisors.
The Optimism Index rose 22 points in the second quarter to +62, returning the index to the level seen in the last half of 2015, before it dipped to +40 in the first quarter of 2016.
Non-retired investors scored highest on the optimism index, with the index increasing 27 points to +68. The index rose 10 points to +45 among retirees. Most of the gains in the overall index result from investors' increased optimism about the 12-month outlook for the stock market as well as about reaching their 12-month investment targets. Additional gains were seen in investor optimism about economic growth as well as maintaining or expanding their household income. There was no change in investor perceptions about unemployment, inflation or reaching their five-year investment goals.
What's a Robo-advisor?
For the first time, the Wells Fargo/Gallup survey asked specific questions about "robo" advisory services, described as "digital advisory services that use computer algorithms to select stocks and other investments for people based on the information people provide about their risk tolerance and goals."
While the financial services industry is ramping up efforts to bring digital advice tools to consumers, automated advice services have not yet made it onto the radar screen of most U.S. investors, according to the survey. Less than half of investors (45%) with $10,000 or more in investments say they have heard about the emerging technology, and just 5% of investors report having already used a robo-advisor.
"Automated investing tools are still in their infancy, but we expect awareness to grow quickly," said Devon McConnell, head of Digital for Wells Fargo Advisors. "Similar to online shopping ten years ago, there is an adoption curve and we anticipate the same pattern will unfold as more investors become familiar and comfortable with these new ways of investing."
Investors Split in Their Use of Online Financial and Investment Tools
One reason robo-advice has yet to catch on with more investors is likely revealed in the finding that less than half of investors say they go online to make changes to their investments (46%), rebalance their investments (45%)...
More