The EUR/USD has been rallying tentatively this week after the ECB's announcement of QE made it fall down to the 1.1097. It has pulled back to the 50% retracement level and is trading just under 1.14 during the 1/28 session. 

The next key resistance will be around 1.145-1.1465, which involves the 200-hour SMA, and the 61.8% retracement level. To the downside, the 1.13 handle will be key protected by the 100-, and 50-hour SMA as well as this week's rising trendline.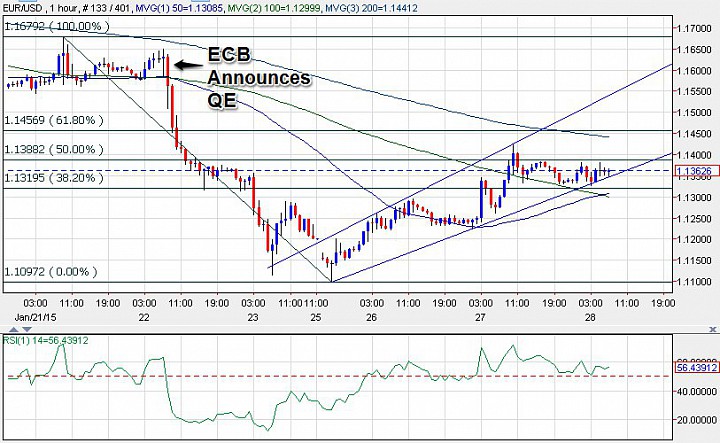 (click to enlarge)

Now, the FOMC is on tap and it is a key meeting because economic data has stalled and other central banks have become more dovish, cut rates, and announced stimulus measures. This puts pressure on the FOMC to delay its rate hike until after mid-2015. 

If the FOMC is cautious and the tone of today's statement and press conference suggests a delay, the EUR/USD has a chance to rally and break above 1.1465. There is a near-term resistance at 1.15, but price should hold above 1.13 at this point, and the pressure will be towards the highs last week in the 1.1650-1.1680 area.

If the FOMC is steadfast about raising rates around mid-2015. The EUR/USD might break back below 1.13, at which point the pressure is back towards the 1.11 low, with risk of breaking lower towards the 1.10 handle.