Fleetmatics Group stocks grew up more than 80% over the last year, which is quite impressive. The company provides the Web software for small and medium business in car fleet management: visibility into vehicle location, fuel usage, speed, mileage and other car insights. 
<!== INSTRUMENT %% %1440% ==!>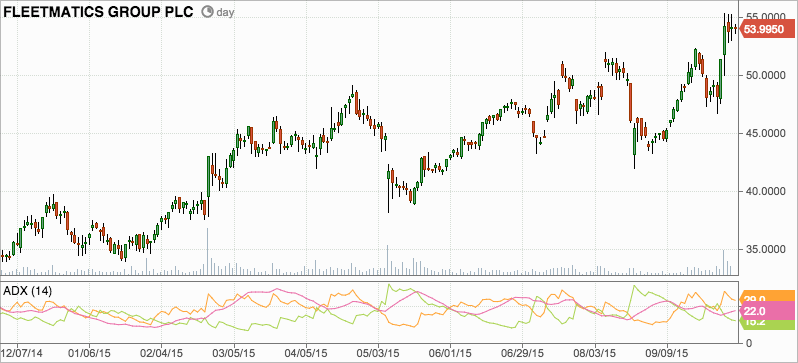 The company has an impressive operating and financial metrics growth. The business model and revenue depends on the number of vehicles under management.
Number of vehicles is growing over the last several years. 3-y CAGR is around 22% and there is no doubt that the company is able to continue this growth. I assume that they will reach around 660K vehicles in the system by the end of this year. They have already reached 625K vehicles under management as of June, 2015;
Average revenue per unit (vehicle) has a growing trend as well. The company increased average revenue per each vehicle from $385 in 2012 to $419 in 2014. Hence, 3-y CAGR is 2.9% and I think that the company will continue to increase its ARPU;
Customer acquisition cost. The company needs to attract new clients and vehicles to the system, but the customer acquisition cost is growing very fast. Fleetmatics spent around $496 per each new vehicle in 2013, and increased the costs to $737 per each new vehicle in 2014. But even if I assume that the company keeps high growth rate of customer acquisition cost, the company will still increase its margins.
I think that at the moment, Fleetmatics' business model is very effective. Therefore I believe that the stock price has still a lot of potential.