Having seemingly just been handed a stinging defeat on Obamacare, the Trump administration is desperate to deliver some 'wins' for the people who voted him into office. After all, he did promise voters "so much winning that you'll get tired of winning."
As the New York Times points out today, one such win could come in the form of recent advances on the construction of that "physically imposing" yet "aesthetically pleasing" border wall that was a cornerstone of Trump's campaign last year.
The United States Army Corps of Engineers has begun preliminary preparations for the construction of segments of a wall in several places along the border with Mexico, the Department of Homeland Security said on Tuesday.

Engineers are drilling and taking soil samples to determine what type of barriers would be most effective in the different types of geography along the border, said David Lapan, a spokesman for the Department of Homeland Security.

The drilling and soil testing are taking place in El Paso; Santa Teresa, N.M.; Calexico, Calif.; San Diego; and the Rio Grande Valley in South Texas. Mr. Lapan said the testing has been completed in El Paso and Calexico. The agency has identified the San Diego area and the Rio Grande Valley as priority regions for new border walls.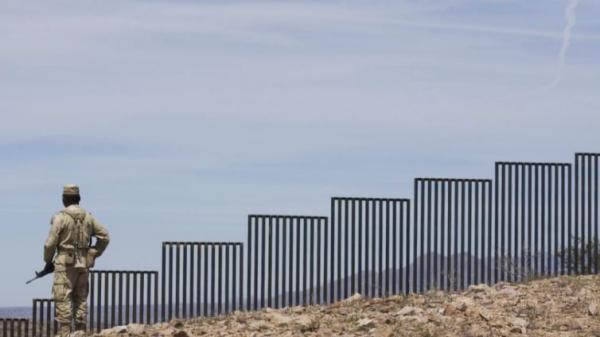 The drilling and testing come as Customs and Border Protection, the parent agency of the Border Patrol, continues to evaluate dozens of proposals that have been submitted by vendors for designs for a border wall. We reviewed a couple of the design proposals back in April and here are a couple of our favorites:
This first design, dubbed "As Pretty as the Parthenon," seems to have prioritized "aesthetically pleasing" over "physically imposing."
And then there is the following design that takes a very practical approach to the border wall which would double as a nuclear waste facility.
Meanwhile, one lady in Pennsylvania submitted a plan to install organ pipes across the border with missing sections to allow free passage across the border...somehow we suspect this design won't make it to the prototype stage.

Last week Trump provided a couple of new insight on the wall while traveling to France on Air Force One:
"You don't need 2,000 miles of wall because you have a lot of natural barriers," Mr. Trump said in a conversation with reporters aboard Air Force One last week. "You have mountains. You have some rivers that are violent and vicious. You have some areas that are so far away that you don't really have people crossing. So you don't need that. But you'll need anywhere from 700 to 900 miles."

Mr. Trump also said the wall would be partially transparent and could have solar panels to help offset the cost.
And then there is the issue of how to pay for the wall. Trump has maintained all along that Mexico will ultimately pay for the border wall but that American taxpayers will front the bill so as not to delay construction. As such, on Tuesday the House Appropriations Committee approved a spending bill that included $1.6 billion for a wall. The bill would fund 74 miles of fencing along the southwest border.
In the interim, the Department of Homeland Security has moved $20 million from other programs to pay for the construction of several border wall prototypes. Construction of the prototypes for a border wall is set to begin this summer in the San Diego area.
Homeland Security officials said the prototypes would be added to the existing border walls in San Diego and would allow the agency to evaluate which barriers are most effective in giving Border Patrol agents time to respond to illegal drugs and human smuggling. Officials said they planned to build four to eight prototypes.
As for Mexico, at least one citizen remains adamant that his country will not pay for Trump's wall.