Advanced Micro Devices AMD reported a loss of a penny in second-quarter 2017, which was narrower than the Zacks Consensus Estimate of a loss of 2 cents. The company had reported loss of 7 cents per share in the year-ago quarter.

Revenues increased 19% year over year to $1.22 billion and exceeded the Zacks Consensus Estimate of $1.15 billion. The year-over-year growth was primarily driven by strong demand for the company's Graphics Processor Units (GPUs) and expanding customer base.

Shares of AMD gained 24.4% year to date, significantly underperforming the 31% rally of the industry it belongs to.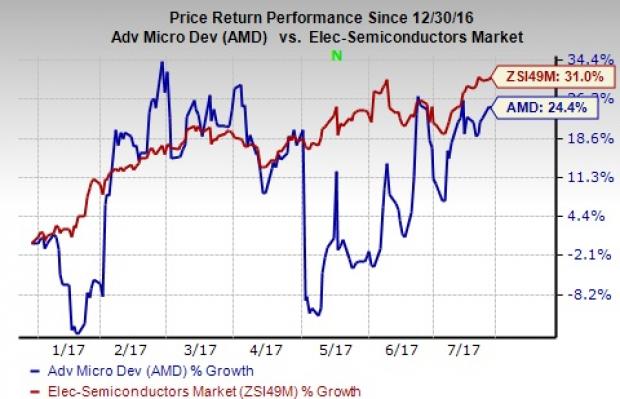 Quarter Details

Advanced Micro has two reportable segments — Computing and Graphics (focused on the traditional PC market), and Enterprise, Embedded and Semi-Custom (focusing on adjacent high-growth opportunities). The details of these segments are discussed below:

Computing and Graphics includes desktop and notebook processors and chipsets, discrete GPUs and professional graphics. This segment accounted for 53.9% of revenues and was up almost 51.5% year over year to $659 million. The year-over-year growth was driven primarily by higher demand for graphics and Ryzen desktop processors. Ryzen-based desktop systems have been adopted by major PC OEMS.

Client average selling price (ASP) increased year over year driven by higher desktop processor ASP owing to the first full quarter of shipments of Ryzen processors. Graphics processor units ASP increased year over year primarily due to strong demand for Radeon RX GPUs.

The Enterprise, Embedded and Semi-Custom segment includes server and embedded processors, dense servers, semi-custom SoC products, engineering services and royalties. This segment brought in the remaining 46.1% of revenues, down 4.9% year over year to $563 million. The year-over-year decline can be attributed to lower semi-custom SoC sales.

However, investments in graphics and data center R&D resulted in an increase in operating expenses to $381 million compared with $342 million in the year-ago quarter.
Advanced Micro Devices, Inc. Price, Consensus and EPS Surprise
Product Highlights
During the quarter, Advanced Micro launched its new "Zen" architecture-based EPYC 7000 series processors.

The company also introduced its series of Ryzen processors - Ryzen Threadripper for ultra-premium desktop systems, Ryzen PRO for enterprise desktops, Ryzen 3 for desktop CPUs and Ryzen Mobile APUs for the consumer market.

It launched Radeon Vega Frontier Edition, Radeon RX 580 and Radeon RX 570 graphics cards this quarter.

Moreover, Apple AAPL announced the new iMac Pro, which will be powered by Radeon Pro Vega product, while its expanded iMac offerings are already being powered by the Radeon Pro 500 Series.

The company's Radeon Instinct MI25 accelerators were shipped to strategic datacenter customers in the quarter.

Balance Sheet

Cash, cash equivalents & marketable securities were $844 million at the end of the second-quarter 2017, compared with $943 million at the end of the previous quarter. Payables to related parties were $374 million in the quarter.

Long-term debt at the end of the quarter was $1.38 billion, down from $1.41 billion in the previous quarter, primarily attributable to debt reduction activities.

Guidance

For third-quarter 2017, Advanced Micro expects revenues to increase 23% sequentially (+/- 3%). At mid-point, this reflects 15% growth on a year-over-year basis.

Gross margin is likely to be 34% while non-GAAP operating expenses are estimated to be $400 million.

Zacks Rank & Stocks to Consider
Advanced Micro carries Zacks Rank #3 (Hold). You can see the complete list of today's Zacks #1 Rank (Strong Buy) stocks here.
Better-ranked stocks in the broader technology sector include Cypress Semiconductor CY and Applied Optoelectronics AAOI, both sporting a Zacks Rank #1.

Long-term earnings growth for Cypress Semiconductor and Applied Optoelectronics are projected to be 10% and 18.75%, respectively.

"The Hottest Tech Mega-Trend of All
Last year, it generated $8 billion in global revenues. By 2020, it's predicted to blast through the roof to $47 billion. Famed investor Mark Cuban says it will produce ""the world's first trillionaires,"" but that should still leave plenty of money for regular investors who make the right trades early. See Zacks' 3 Best Stocks to Play This Trend >>"
Want the latest recommendations from Zacks Investment Research? Today, you can download 7 Best Stocks for the Next 30 Days.
Click to get this free report
Cypress Semiconductor Corporation (CY): Free Stock Analysis Report
Apple Inc. (AAPL): Free Stock Analysis Report
Advanced Micro Devices, Inc. (AMD): Free Stock Analysis Report
Applied Optoelectronics, Inc. (AAOI): Free Stock Analysis Report
To read this article on Zacks.com click here.
Zacks Investment Research