---
---
---
---
---
---
---
---
---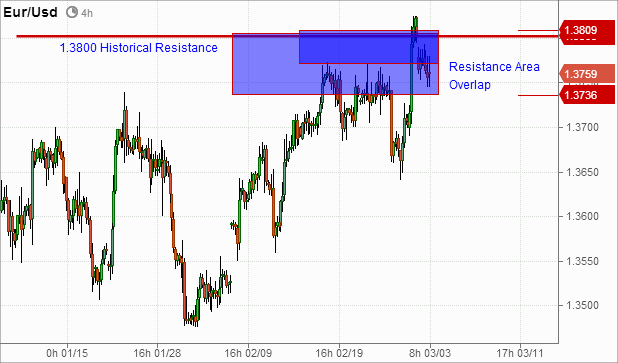 The EUR/USD pair from a larger perspective is still exhibiting signs of strength in my opinion.  With that being said, we are trading at a significant level of resistance. This can open the door to possible smaller expectation shorts, such as day trades or scalps.
---
The 1.3746 to 1.3809 is an overlapping resistance zone which is based on the analysis generated from previous swing highs. In conjunction with that, price is hesitating around the 1.3800 whole number which carries heavy historical significance.
---
One sign to look for in this scenario is a bearish chart pattern that can serve as additional confirmation for a short.  A double top on the 60 minute or 4 hour time frames would be acceptable in my opinion.  If entering any short positions, I would be looking for conservative targets just above 1.3650 area, since it is reasonable for this pair to retest that area. 
---
It is possible that this pair can break lower and retest 1.3500s but I would not be that optimistic at this point.  The bigger picture is still bullish. Any push above 1.3830 will cancel out this short term bearish scenario.
---
To learn more about the analysis and methodology used to provide this insight, visit http://smbcap.net/4weeks