Jack Dorsey keeps proving that he can build, develop and succeed with companies from different sectors. I don't want to talk about Twitter, their deal with NFL and Periscope app, because I am not sure that I can convince you that even Twitter in Dorsey's hands is a really great product. Anyway, we'd better check another company that is lead by Dorsey's team - Square. 
They showed great results in Q4 last year when they made their first earnings call after going public. Square is going to make the second earnings call this Thursday. Before it happens, we should understand what analysts and traders are waiting from this announcement. 
Previous report
As you can see - Starbucks contributed more than 10% to the Square's revenue in 2015. As we all know, in October 2015 Starbucks announced the partnership termination. Their contract will end up in Q3 2016, but I still think that we'll see a slowdown in Square's revenue from Starbucks this quarter. You can see from the table that Square achieved more than 45% growth on quarter basis, which is too high to keep it especially after the termination announcement. 
Doesn't it crucial for Square's revenue? No. As we can also see from the table, more than 30% of revenue growth was in transaction revenue. Unfortunately, we don't have an exact number of merchant accounts Square has, but I am not sure that the number of large ones is close to what Starbucks contributed to Square's sales. 
One more point: Starbucks contributed around $142M in sales, but it also contributed $165M in COGS, so it means that Starbucks partnership was absolutely unprofitable for Square. The story behind this collaboration is very simple: Starbucks invested $25M into the Square and the last became an exclusive partner to process the debit and credit card payments in over than 7,000 Starbucks' locations. Jack Dorsey did a great job - he got a significant investment, he got an exposure, he provided a significant growth for his payment processing company - and now, when he doesn't have a a significant dependance on Starbucks, they terminated the partnership. 
Margins
This is the biggest concern of all the traders, analysts and basically everybody who is interested in this stock.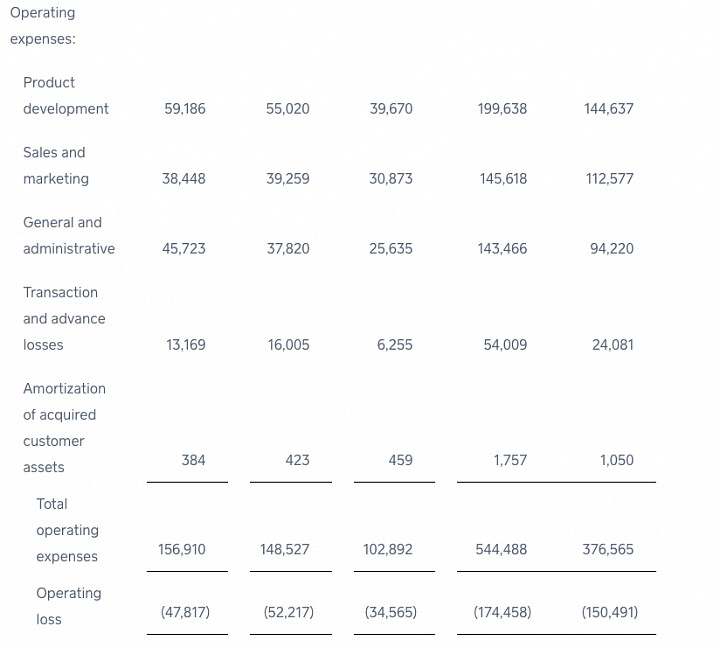 This table is the continuation of the previous one, so as we can see, the company increase the operating loss from $150M in 2014 to $174M last year, but the operating loss margin is narrowing. In 2014 it was around 21% below zero, in 2015 it was already 16.6%. Still negative, but what a great 5% margin move! The company keeps growing 50% a year at the same time and there are plenty of examples, when the company had a boost in sales, but the margins were dropping at the same time. One example of Box is worth mentioning here. 
I assume that this year the company still is going to have a negative margins, but as I've already told, the termination of an agreement with Starbucks will narrow this negative margins a lot. The gross margin for Starbucks was more than 10% below the zero, so I suppose Square will be really close to the operating breakeven by the end of this year. 
Market
According to a number of sources (Top-3 consulting, different investment boutiques), card processing industry is growing very fast. Here you can see the pace: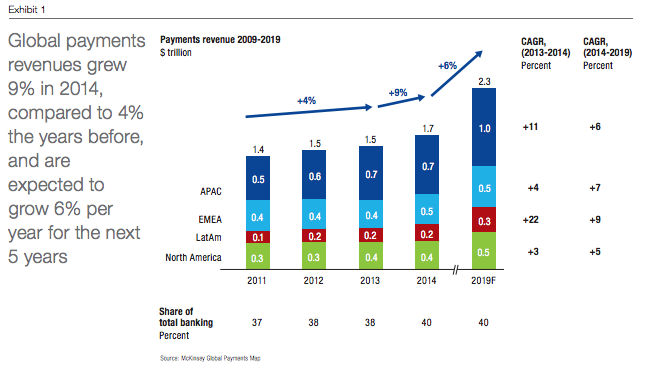 (Source: finextra.com)
And here is the same problem we have for Square - margins. Because the market is growing on volumes, not on margins. And hence we have another concern for Square - different card processing companies could simply lower the margins to beat their competitors.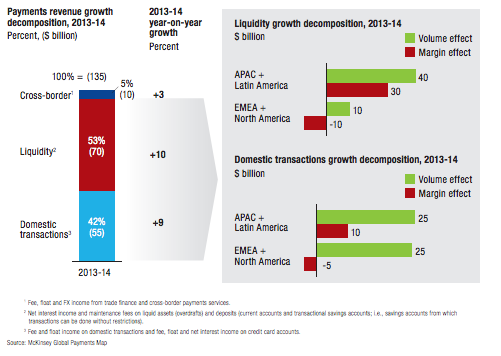 (Source: finextra.com)
And there are a number of players that could compete with Square. But, I think that among the competitors with more or less equal technological opportunities, Square will be the first company that can lower the margin a little bit to keep its huge growth rates. Others are two steps behind. One-two big partnerships and Square could allow lowering the margins. 
Square raised more than $600M before going public and the company is able to cover the losses for several more years. 
One of the most interesting news last year came from ... Amazon. Yes, the company announced that they don't want to compete with Square and Paypal. So, I have the following question to those of you who think that somebody can beat Square by lowering the margins: what should be the size of the company to compete with Square with lowered margins? I'm not sure that you can name more than 2-3 companies. Doesn't it mean that Square has a significant upside in gaining the market share?
Outlook
Square provided the following guidance for Q1 and 2016 fiscal year:

In order to get a better understanding, what it means, let's take a look at the adjusted revenue in their 10K report:

As you can see, the adjusted revenue in Q1 last year was around $89M, so that company is waiting for an upside around 48% - almost the same growth rate we saw last year. Basically adjusted revenue means the revenue without transaction costs and Starbucks partnership. 
According to Yahoo Finance, analysts expect completely different numbers: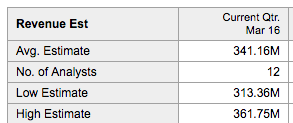 And as you can se, the average estimate is even higher that the company is waiting for. Let's try to convert their adjusted revenue into the top-level revenue. If the company keeps the same transaction cost level (around 50% of total revenue average in 2015) and assume that SQ will get around $35M from Starbucks this quarter, we will get around $336M - this is the realistic scenario. 
I have a warning for all the traders and investors - Square could miss the analysts' estimates and hence drop significantly on Thursday. Even missing $1-2M in revenues can cause a drop nowadays, that's how the analysts are moving the stocks. 
Strategy
We see that the company is growing fast, the market is also expanding, big competitors are going off the market, therefore I suppose Square is a good buy in long-term, but I'd better hedge the long position. In case if the company misses the expectations, it will drop more than 5% for sure. So I assume that the best strategy is to buy the stock and hedge it with $13 put option that will cost you around $0.7 per contract. 
I don't expect really high returns on this one, but I do really consider it as a long-term play. I will be waiting for their earnings call on Thursday. I hope Jack is going to surprise us with higher than expected revenue and narrowing margins. 
Let me know what you think on this company, its financials and trading strategy in the comments.