US Equities Stage Small Bounce:
Well, following the sharp sell-off today, the market paused for breath, and the S&P500 index rallied about 38.2% before coming under some pressure into the close.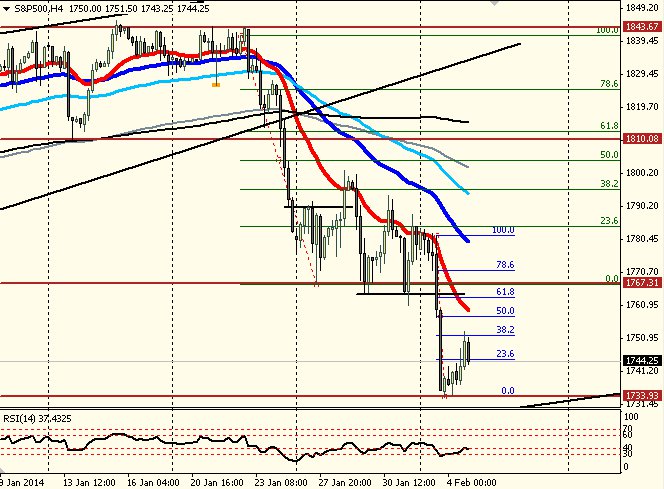 We saw a very similar move play out 2 weeks ago, so certainly the all-clear has not been sounded, and market participants will have to be on their toes regarding whether there this is a dead-cat bounce and there will be a further decline, or if US equities can at least go sideways for the time being using 1734 as a level of support.
Aussie Finds Life on Change in RBA Tone: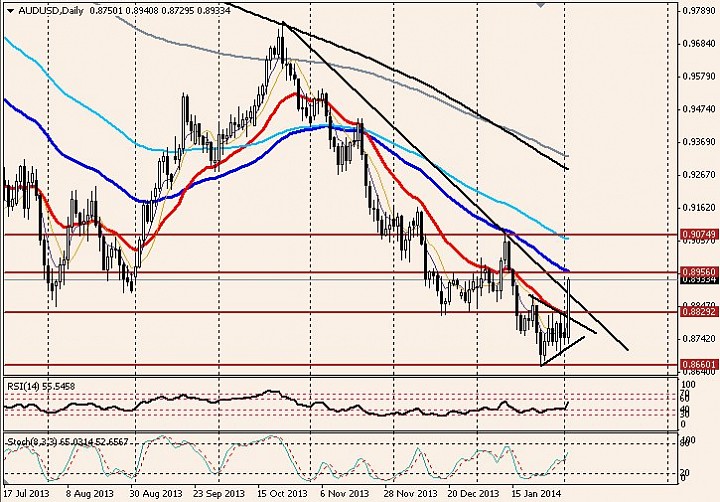 With equities relatively quiet all things considered, the Aussie turned out to be the star performer following last night's RBA interest rate decision and statement where they switched from a dovish tone to a more neutral tone - a development the market was caught flat footed on - and as a result the AUD/USD managed to break above a week-long resistance level at 0.8830 and move towards the 0.8955 pivot. This amounted to a 61.8% retracement of the downswing seen in January and could be seen as a fairly good technical signal for the pair. While it may not mean a move to a bullish tone (a break above 0.9075 would be needed at this point) it does suggest that this pair may enter into a sideways channel for the time being.
For more on the AUD see my analysis of the
GBP/AUD
and
AUD/JPY
.
Key Risk Gauge USD/JPY Tests Old Support As Resistance: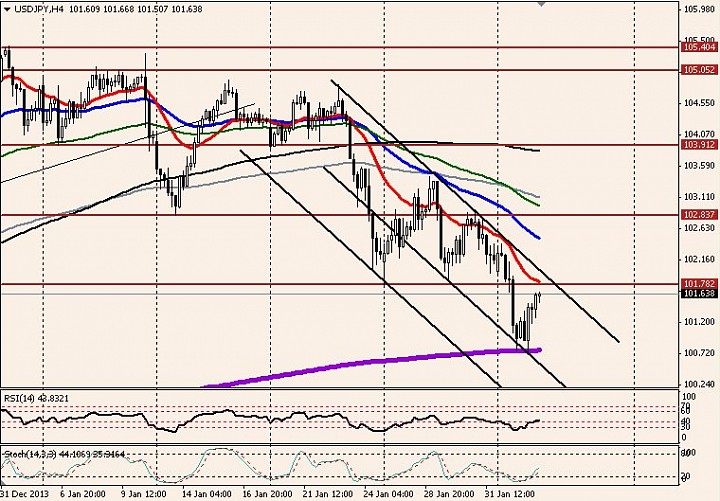 With US equities (and Nikkei futures) staging a rebound, the USD/JPY managed to get off the canvas (bouncing up off its 800-4 hour EMA, seen here in dark purple). The pair has been in a downward slide, as risk sentiment has been bearish on the 4-hit combo of weak Chinese data, Fed tapering, weak US earnings, and emerging market stress. The key level to watch will be 101.80 which was support last week, and was sliced through in Monday's session. If that level holds as resistance then the bearish structure of the recent downswing remains. However a move above that level and we can start to speculate about a bottom starting to form, and perhaps a period of sideways action. However, the onus is certainly on the pair's bulls (and equity bulls in general) to show that they can beat back the tide of negativity that has started this year.