Summary
FCEL shares have appreciated strongly in the past few weeks as it is making tangible progress by arresting the slide in revenue and is improving margins.
FCEL's addressable market is expected to grow at a CAGR of 30%, and since the company's products allow utilities to generate robust IRR, they will gain traction.
FCEL's backlog is double the revenue it has generated in the past year, while its potential market opportunity is more than $18 billion, indicating that it will continue getting better.
FCEL has a strong balance sheet as its cash position exceeds debt, leading to low leverage, and this will allow the company to tap the debt market to fund growth.
Though FuelCell Energy (NASDAQ:FCEL) shares have dropped over 45% in 2015, they have made a strong comeback in the past one-and-a-half month. In fact, FuelCell shares are up more than 25% since August 10, and the company's recently released second-quarter results, which were better than expectations, seem to have aided the stock's rise.
The turnaround has begun
In fact, FuelCell was able to reduce its loss to the tune of 33% in the previous quarter on a year-over-year basis, while the rate of its revenue decline slowed down. As the following chart shows, FuelCell has been able to improve its gross margin performance in the past year at an impressive pace, while it has arrested the slide in its revenue: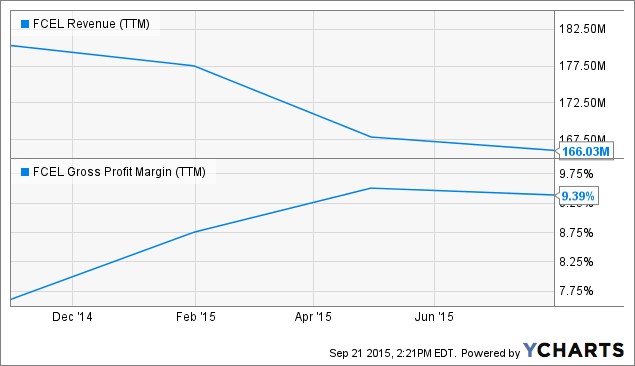 FCEL Revenue (TTM) data by YCharts
Going forward, it is possible that FuelCell will be able to sustain this strong momentum as the fuel cell market as a whole is expected to grow at an impressive pace. According to TechNavio, the global fuel cell market is anticipated to grow "at CAGRs of 30.40% and 31.91% in terms of unit shipment and MW shipment, respectively, over the period 2014-2019."
Thus, the opportunity for FuelCell Energy going forward is strong as it expands its addressable market. The good thing is that the company is already focused on tapping this opportunity through the expansion of utility markets, improvement in manufacturing capacity worldwide, reduction in the grid-comparable Levelized Cost of Energy (LCOE), and by developing utility scale projects. In this article, we will take a look at the different reasons why FuelCell Energy is all set to get better going forward.
Why FuelCell will gain traction
FuelCell delivers on-site CHP projects of 1.4 MW under its PPA model in 5-9 months that helps the end user save power costs and achieve an unlevered IRR of 9%-11% for the project owner. Likewise, its utility scale projects of 19.6 MW, which are delivered in 9-15 months under a PPA, generate an unlevered IRR of 8%-10% for the utility project owner. All in all, the company sees an addressable market worth approximately $220 million in these two segments going forward.
On the other hand, FuelCell's distributed generation on-site CHP and utility projects have a bigger addressable market worth $18 billion globally. Now, as the company continues to improve its capacity going forward, it will be able to improve both its revenue and gross margin performance as shown in the chart below:

Source: Investor presentation
An improving backlog points toward better times
FuelCell has a robust pipeline of projects in the United States and Europe. It has a pipeline of about $2 billion for North America and Europe, apart from royalty revenue from Asia. Of this potential pipeline, FuelCell has captured a backlog of $338 million at the end of the previous quarter. This backlog includes product sales orders of $98 million.
Additionally, it has a service backlog of $225 million and an advanced technology contract backlog of $15 million. More importantly, FuelCell's backlog has improved on a sequential basis as shown in the chart below: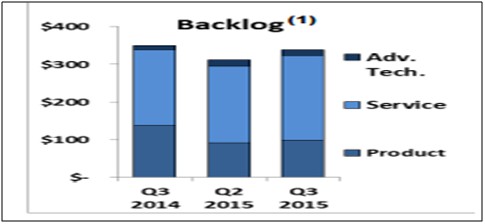 Source: FuelCell presentation
More importantly, FuelCell is consistently enhancing its backlog. The company recently announced four different projects with the U.S. Department of Energy, which are expected to add approximately $24 million to its backlog during the fourth quarter of 2015 upon finalization of these projects.
In fact, FuelCell's backlog of $338 million is more than double the revenue of $166 million generated by the company in the trailing twelve months. Thus, it is likely that the company will be able to improve its top line performance going forward, and since it is already making impressive progress on the margin front, its earnings will also get better.
Additionally, FuelCell's project development agreement with E.ON Connecting Energies (OTCQX:EONGY) will be another catalyst for the company going forward. FuelCell expects this agreement to help increase the reach of its CHP solutions at megawatt and multi-megawatt Direct FuelCell (DFC) power plants to E.ON's customers in Europe.
This is a smart development on FuelCell's part as E.ON's parent company is one of the largest electric utilities in the world with a power generation capacity of 60,000 MW spread across 15 countries. As a result of this deal, FuelCell should be able to add more PPA projects to its pipeline in the coming months, particularly in Germany, the U.K., and Italy.
Conclusion
Thus, from the points discussed above, we can see that FuelCell's end market opportunity is strong, and since its solutions help utility customers increase their rate of returns, the company will see an increase in the adoption of its products. At the same time, FuelCell's balance sheet is quite strong with a cash position of $65 million as compared to a small debt of $29 million. As a result, FuelCell will be able to tap growth in the end market more effectively going forward as the company can take on more debt, if required, to expand the business.
All in all, considering the points presented above, I believe that FuelCell Energy will be able to sustain its recent momentum going forward, making the stock a good long-term pick.
Editor's Note: This article covers one or more stocks trading at less than $1 per share and/or with less than a $100 million market cap. Please be aware of the risks associated with these stocks.
More