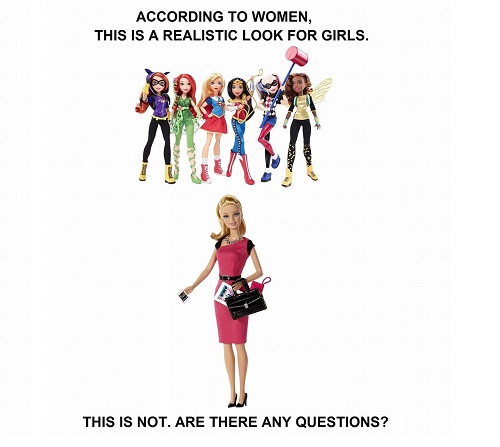 For a large number of years, Feminist groups have been highly critical of Barbie's "unrealistic" figures. According to the Huffington Post, if Barbie were an actual woman, she would be 5'9" tall, have a 39" bust, an 18" waist, 33" hips and wear size 3 shoes.
On Wednesday this week, Mattel showed off a new line of "DC SuperHero Girls" action figures. They were especially proud in announcing that this new series of toys were designed by women. The new dolls based on teen characters sport slender, athletic legs; huge eyes and over sized heads. Two of of the characters are psychotic killers in the DC comics' story lines.
Now, I'm not female, so I will never be able to grasp the way that teenage girls think about their bodies, but comparing the two products, is Barbie really that far removed from realism? I posted the image above to my Facebook wall hoping for commentary from my followers, and the feedback I got from it was very interesting. 
The comments from males, much like myself, were judgmental. They criticized the DC dolls as being unrealistic. On the opposite end of the spectrum, the female readers only "liked" the photo but didn't say much of anything. I took that to mean that either they didn't want to badmouth other women in public, or they actually do prefer this design over Barbie's "oversexed" look. 
If the company indeed finds success bringing a toy design that girls prefer over Barbie, then more power to them. It remains to be seen how popular the products ultimately will be, but investors seem to be pleased with what they are seeing so far. The stock had another strong day, up 2.34% to close at $22.33/share.