The levitation continues with S&P futures pointing to - what else - another higher open while European stocks swung between gains and losses on the busiest earnings days of the year (85 of the Stoxx 600 report) which has seen European pharma giant AstraZeneca plunge 15%, the most on record, after its flagship lung cancer trial Mystic failed to show benefits, while Deutsche Bank slumped 4% on a 12% plunge in FICC revenue. Asian shares rose spurred by results and alongside a surge in China's small-cap ChiNext index which surged 3.6%, its biggest one day gain since last August, after earnings reports revealed that the Chinese "National Team" aka PPT had bought 2 ChiNext shares.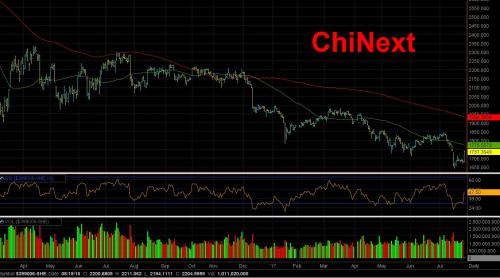 Europe's Stoxx Europe 600 Index fluctuated before edging lower amid the wave of company reports, with the likes of Nokia and BASF beating estimates but Deutsche Bank and Airbus disappointing. The Stoxx Europe 600 Index declined 0.1 percent. The U.K.'s FTSE 100 Index decreased less than 0.1 percent. Germany's DAX Index fell 0.5 percent. The MSCI Emerging Market Index rose 0.9 percent to the highest in about three years.
In Asia, solid earnings from giants Samsung and Nintendo helped the MSCI Asia Pacific Index to the highest since December 2007. Japan's Topix index rose 0.4 percent, while Australia's S&P/ASX 200 Index added 0.2 percent. South Korea's Kospi index climbed 0.4 percent. In Hong Kong, the Hang Seng Index added 0.7 percent, while the Shanghai Composite Index added 0.1 percent.
Meanwhile, the MSCI's 47-country All World share index cheered its latest record high.
The big story remains the relentless drop in the greenback which however may have paused for the time being, with the Bloomberg Dollar Spot Index paring an earlier drop, but still trading near the lowest in more than a year after the Fed once again surprised on the dovish side by altering its wording around inflation, suggesting recent inflationary weakness may be more persistent than expected.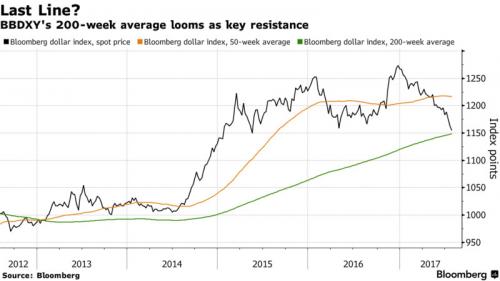 "The dollar's biggest problem is it can't expect help from the Fed for a long time," said Alan Ruskin, global head of forex at Deutsche Bank."In the short term we are still in a risk-favorable loop, whereby subdued goods and services inflation supports a well-behaved bond market and asset inflation. It's just another day in paradise."
Elsewhere in currencies, the yen traded at 111.35 per dollar, while the Aussie extended gains above 80 US cents, rising 0.4 percent after jumping 0.9 percent Wednesday. The Bloomberg Dollar Spot Index dipped less than 0.05 percent to the lowest in about 15 months as of 9:40 a.m. in London. The euro declined 0.1 percent to $1.1727. The British pound rose 0.1 percent to $1.3138, the strongest in more than 10 months. The Swiss franc decreased 0.3 percent to $0.9542, the weakest in more than a week.
Oil prices paused near eight-week highs after a surprisingly sharp drop in U.S. inventories encouraged speculation a global crude glut would recede. A bout of profit-taking saw Brent crude futures ease 7 cents to $50.90 a barrel, while U.S. crude dipped 5 cents to $48.70.
In rates, Germany's 10-year yield decreased five basis points to 0.52 percent. France's 10-year yield fell four basis points to 0.772 percent. Britain's 10-year yield declined four basis points to 1.191 percent.
Economic data include jobless claims, durable goods orders. Scheduled earnings include Amazon, Procter & Gamble, Comcast, Verizon, Intel. U.S.
Bulletin Headline Summary
Swedish PM, Lofven is said to not call a snap election and is to re-arrange cabinet
Yields have continued to soften across Europe
Looking ahead, highlights include US Durables, Wholesale Inventories and Weekly Jobs
Market Snapshot
S&P 500 futures up 0.2% to 2,477.75
MXAP up 1% to 160.81
MXAPJ up 0.9% to 532.31
Nikkei up 0.2% to 20,079.64
Topix up 0.4% to 1,626.84
Hang Seng Index up 0.7% to 27,131.17
Shanghai Composite up 0.06% to 3,249.78
Sensex up 0.4% to 32,524.37
Australia S&P/ASX 200 up 0.2% to 5,785.01
Kospi up 0.4% to 2,443.24
STOXX Europe 600 down 0.08% to 382.44
German 10Y yield fell 4.7 bps to 0.514%
Euro down 0.08% to 1.1725 per US$
Italian 10Y yield fell 1.7 bps to 1.836%
Spanish 10Y yield fell 3.2 bps to 1.515%
Brent Futures down 0.3% to $50.84/bbl
Gold spot up 0.1% to $1,261.95
U.S. Dollar Index down 0.2% to 93.52
Top Overnight News
Deutsche Bank's Trading Outlook Dims; AstraZeneca Plummets After Failed Trial; Big Oil Earnings Beat Across the Board
Libor will be phased out by the end of 2021, as U.K. regulators and banks look to replace the scandal- tarred indicator with a more reliable system
Senate Republicans who have promised to demolish Obamacare are swerving toward a bare-bones approach that might eliminate just a few pieces of the landmark health-care law
Hedge funds which had built up an unprecedented bet against two-year
U.S. notes in the futures market, left battered by the dovish Fed
With House members planning to leave Washington Friday for a five-week recess, the lack of a budget is raising doubts that a tax rewrite -- one of President Donald Trump's top priorities -- can get done this year, or even before the 2018 elections
Schneider Electric SE agreed to buy U.S. power-systems maker ASCO Power Technologies for $1.25 billion as the French company expands in North America and seeks to offset falling sales at its infrastructure division
Energy Capital Partners, the private equity firm that owns the largest stake in U.S. power generator Dynegy Inc., is now in advanced talks to buy its rival Calpine Corp.
Apollo Global Management LLC amassed $24.6 billion for the largest fund ever raised by a leveraged-buyout firm, crowning a string of record-setting war chests as investors hunt for better returns
Just four months into his latest turnaround plan, Deutsche Bank CEO John Cryan is already dialing back ambitions
Viacom has...
More