Following the perfectly expected intervention of not one but two central banks last week, which came at just the right time to crush the last of the "weak hand" shorts (recall three weeks ago we reported that the NYSE Short Interest had hit the highest level since Lehman, when we said that a likely outcome is that "either a central bank intervenes, or a massive forced buy-in event occurs, and unleashes the mother of all short squeezes, sending the S&P500 to new all time highs") the market extended on its best rally since 2011.
However, the majority of the hedge fund community barely noticed this twofer of central bank generosity.
The reason for this is that not only is the "smartest money in the room" suffering its worst year since 2011 (more on this later) even as the S&P500 finally went green for the year, but this is the week when public attention finally turned to what until recently had been one of the biggest hedge fund hotel darlings, aggressive pharma rollup Valeant. The attention was not good, and as insinuations of massive fraud spread, the stock cratered.
The result: according to Goldman's chief equity strategist, David Kostin (who recently lowered his year end S&P price target to 2000 or 75 below its Friday closing price, and who expects the S&P will trade at 2075 in 12 months time) the fate of Valeant was one of the three biggest concerns on Goldman's (mostly hedge fund) clients' minds for the past week.
The other two: buybacks and Q3 results.
Here is Kostin explaining why the market surge on the back of more central bank intervention may have been a Pyrrhic victory for those who were supposed to benefit the most from the recent rally: the hedge fund community which "unfortunately" owns roughly 22% of Valeant's shares.
From Goldman's Kostin:
Reflexivity in action: A case study in specialty pharma; total cash return outperforms
This week's 35% plunge in Valeant Pharmaceuticals (VRX) represents a classic example of reflexive behavior in financial markets as
described by George Soros in The Alchemy of Finance. Eight Health Care stocks including ENDP (-18%) and AGN (-3%) are in our
Hedge Fund VIP basket (GSTHHVIP) that was flat this week compared with a 2% rise in the S&P 500. Stocks with high cash returns to
shareholders via dividends and buybacks (GSTHCASH) matched the market, rising by 2%. We welcome 24 new constituents into our
rebalanced high cash return basket that has a P/E of 14.6x vs. 17.0x for median S&P 500 stock with twice the cash yield (10% vs. 5%).
Three topics dominated our client discussions this week: (1) Hedge fund performance in the wake of the collapse in Valeant Pharmaceuticals (VRX) during the past five days and bear market in biotechnology stocks during last three months (Nasdaq Biotech Index is 21% below its July peak); (2) cash return to shareholders, especially buyback activity; and (3) 3Q results.
The recursive relationship that George Soros memorably described in The Alchemy of Finance: Reading the Mind of the Market (1987) was in full evidence this week as VRX shares plunged by 35%. In the case of the equity market, reflexivity comes into play when some mechanism is triggered and participants' bias shifts. Simply put, the so-called fundamentals that are supposed to determine market prices no longer matter. Instead, "market prices play a different role: They do not merely reflect the so-called fundamentals; they themselves become one of the fundamentals which shape the evolution of prices. This recursive relationship renders the evolution of prices indeterminate and the so-called equilibrium price irrelevant." The classic example is equity leveraging in an M&A roll-up where the temporary overvaluation of shares is converted into high EPS growth which expands the P/E ratio and allows shares to be issued at inflated multiples to fund more acquisitions.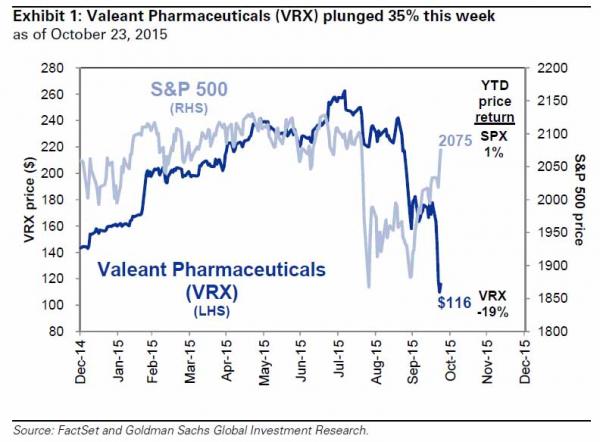 Reflexivity changes the structure of future events and is significant in cases where the starting point is far from equilibrium. Our Specialty Pharmaceuticals equity research analyst Gary Nachman authored a report this week that looks at the disarray within the sector given new uncertainties and fears that have entered the narrative (see Framing the debate after a challenging day in spec pharma, October 22, 2015).
Hedge funds are important to VRX and VRX is important to many hedge funds. First, hedge funds own roughly 22% of the firm's shares, so investor sentiment and perceptions matter. Second, our Hedge Fund Trend Monitor indicates that 7% of fundamental hedge funds own shares in VRX with 5% owning it as a top 10 position. In those cases the average weight is 10% of the portfolio! Netflix (NFLX) and Kraft Heinz (KHC) are the only other stocks in our Hedge Fund VIP basket (GSTHHVIP) where funds owning the shares hold them with a double-digit average long portfolio weight.
Allergan (AGN) ranks at the top of the list of stocks that "matter most" to long/short hedge fund performance. Shares fell by 3% this week. Fully 14% of all hedge funds own some AGN shares and 10% of funds have it as a top 10 position in which case the average weight is 6% of their long portfolio. Another specialty pharma firm in our basket, Endo International (ENDP), fell by 18% this week. However, a few important hedge fund holdings rallied this week including GM (+8%) AAPL (+7%), and Priceline (+2%) Our hedge fund VIP basket was flat this week versus a 2% rise in S&P 500.
Companies seeking to return cash to shareholders have two choices: buybacks and dividends. Investors have clearly expressed their  preference in 2015 and the pattern has been consistent for decades: They prefer both! A portfolio of firms with high combined buyback and dividend yields has outperformed baskets of stocks emphasizing either one of the approaches.
S&P 500 buyback announcements have jumped by 50% vs. last year to $521 billion. Examples include AAPL and GE ($50 billion each), WMT ($20 billion), and GOOGL ($5 billion). Nearly 25% of annual buybacks occur during November and December just after firms report 3Q results. History reveals that high total cash return stocks typically outperform when the buyback window is open. Most firms can repurchase shares starting in November.
In an income-starved world, firms are also returning cash via dividends: 249 S&P 500 firms have raised their payouts YTD with a median hike of 10%. Dividends have comprised 70% of the annualized total return for US stocks since 1975 and 55% of the annualized return since 2000.
Our sector-neutral basket of 50 stocks with the highest trailing 12 month total cash return yield has outperformed the S&P 500 YTD by
almost 100 bp (3.4% vs. 2.5%). In contrast, firms with the highest buyback yield alone lagged the market by more than 250 bp (-0.3% vs. 2.5%). We continue to recommend our total cash return basket (GSTHCASH).
We have re-balanced our high total cash return to shareholders basket. With 24 new companies, our 50-stock sector-neutral basket has a trailing 12-month total yield of 10.2% vs. 4.7% for the median S&P 500 stock. But the basket has a median P/E of 14.6x versus 17.0x for the median S&P 500 firm.
New firms in our basket include LOW, NAVI, ABBV, PFE, CTAS, and LLL. We have also re-balanced our buyback basket composed of stocks with the highest trailing 12-month repurchase yields (GSTHREPO). Our 50-stock sector-neutral basket has 25 new constituents including NAVI, GILD, and MON. The median firm in the basket has a trailing 12-month buyback yield of 8.3% versus 2.5% for the S&P 500. See Exhibits 5-6 for constituents.
We are 35% through 3Q earnings season and results have been mixed. Energy and Materials firms have generally disappointed while consumerfacing companies have posted better results.