Apple Inc's AAPL highly anticipated iPhone 8 launch could be delayed as the company faces multiple issues, observe several analysts.
Generally, Apple comes up with new editions of the iPhone in September. However, per CNBC, the latest report from analysts of Bank of America Merrill Lynch states that technological issues involving fingerprint and 3D sensors could delay the launch by 3-4 weeks.
As a result, these analysts have lowered their iPhones shipment expectations for the quarter ending September by 11 million. Expectations for the quarter ending December also went down by 6 million. For fiscal 2017, the analysts have lowered their iPhones shipment expectations to 208.1 million, down 11 million units.
Earlier this week, Investopedia quoted KeyBanc analyst stating that "Apple continues to struggle with the workaround for the fingerprint sensor." This increases the chances that "the new OLED iPhone could be delayed, or ship without a fingerprint sensor, either of which could increase risk to unit sales and mix for the cycle," he added further.
KeyBanc analyst, Andy Hargreaves observes that even if Apple fixes its fingerprint issues and places orders before August, the timeline would be pushed to October/November, as to implement a feature (from order to production) minimum of 12 weeks are needed.
Apple Inc. Price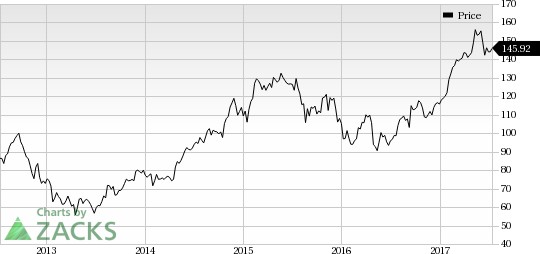 Touching upon Apple's facial recognition technology, Investopedia quoted Hargreaves saying "We believe Apple's facial recognition solution should work from many angles and in low-light environments. However, it would not work without clear line of sight to the user's face. Even if this encompassed just 5% of login scenarios, it would mean that several times a day the new iPhone would perform worse at an elemental feature than older iPhones, which would risk pushback from consumers."
Moreover, few days back, citing sources familiar with the matter, Fast Company had reported that Apple engineers have pressed the panic button after several software issues with iPhone 8 cropped up. These might cause production and delivery delays. Also, chances are that if the bugs aren't fixed before launch, the phones could be shipped with some features disabled. However, this is not uncommon. iPhone 7's Portrait mode was activated only after the bug in the software was fixed, adds FastCompany.
Expectations regarding the upcoming iPhone 8 are humongous, as it will mark the tenth anniversary of the first iPhone. Analysts have already dubbed it a "super cycle." Hence, any delay could severely impact Apple's quarterly results. The company is set to unveil three phones – iPhone 7S, iPhone 7S Plus and the rumoured iPhone 8 – this fall.
Apple is likely to make a big innovation leap with iPhone 8. The phone is rumored to have features like a glass body, a dual curved edge-to-edge OLED (organic light-emitting diode) display with wireless charging (USB-C) and higher storage options. Reportedly, iPhone 8 will be the first of its kind to support OLED display. Per reports, the company has ordered nearly 70 million OLED screens from Samsung Electronics.
OLED display is being increasingly adopted as it comes with improved brightness, contrast and efficiency compared with LCD or Plasma displays. Television sets have long been equipped with OLED displays. Smartphones are fast catching up now.
Nonetheless, it is the price point that might prove an impediment. Reportedly, iPhone 8 could be priced more than $1,000 dollars. Many analysts argue that the existing iPhone 7 and 7 Plus editions with 256GB storage carry price tags of $849 and $969, respectively. So a price tag north of $1000 should not be considered unreasonable for a fully redesigned OLED iPhone 8.
Zacks Rank & Share Price Movement
At present, Apple carries a Zacks Rank #3 (Hold). You can see the complete list of today's Zacks #1 Rank (Strong Buy) stocks here.
In the past year, shares of Apple have registered growth of 47.5% compared with the Zacks categorized Computer Mini industry's gain of 46.4%.
Stocks to Consider
Better-ranked stocks in the broader tech space include Cypress Semiconductor Corp. CY, Energizer Holdings Inc ENR and Marvell Technology Group Ltd. MRVL, each sporting a Zacks Rank #1.
Cypress, Energizer and Marvell have delivered average positive earnings surprise of 83.3%, 21.6% and 86.7%, respectively in the trailing four quarters.
More Stock News: This Is Bigger than the iPhone!
It could become the mother of all technological revolutions. Apple sold a mere 1 billion iPhones in 10 years but a new breakthrough is expected to generate more than 27 billion devices in just 3 years, creating a $1.7 trillion market.

Zacks has just released a Special Report that spotlights this fast-emerging phenomenon and 6 tickers for taking advantage of it. If you don't buy now, you may kick yourself in 2020. Click here for the 6 trades >>
Want the latest recommendations from Zacks Investment Research? Today, you can download 7 Best Stocks for the Next 30 Days.
Click to get this free report
Energizer Holdings, Inc. (ENR): Get Free Report
Marvell Technology Group Ltd. (MRVL): Free Stock Analysis Report
Cypress Semiconductor Corporation (CY): Free Stock Analysis Report
Apple Inc. (AAPL): Free Stock Analysis Report
To read this article on Zacks.com click here.
Zacks Investment Research