The IQ Leaders GTAA Tracker ETF was just launched at the end of September.
It's designed as an "ETF of ETFs," but its high expense ratio makes it less than an ideal choice for long-term investors.
I offer two alternatives that would achieve a similar investment objective to this ETF at a much lower cost.
I have a generally negative sentiment when it comes to "fund of funds" products whether they are mutual funds or ETFs. The main reason is that I think many of them layer on unnecessary fees for investors and can generally be replaced by an index mutual fund or ETF that charges a razor-thin expense ratio (the Vanguard funds, for example). I found myself feeling that way again when the IQ Leaders GTAA Tracker ETF (NYSEARCA:QGTA) was launched at the end of September.
This ETF is designed to be an "ETF of ETFs," and looks to, according to the fact sheet, "track the performance and risk characteristics of the 10 leading global allocation mutual funds." What it's doing essentially is taking the most popular sector ETFs and investing in order to maximize the fund's risk/return profile.
The fund's holdings are detailed below: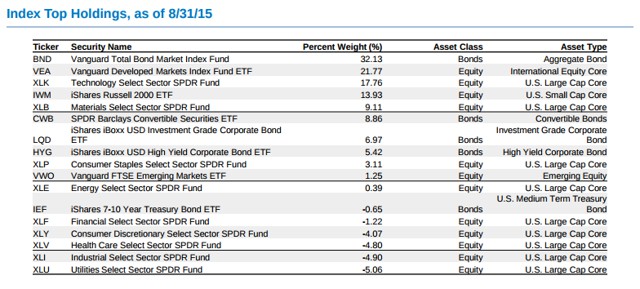 There are a couple of things that immediately stand out to me when looking at this list.
All of these products are managed by either State Street (NYSE:STT), Vanguard or BlackRock (NYSE:BLK). These companies are very low-cost providers...
More