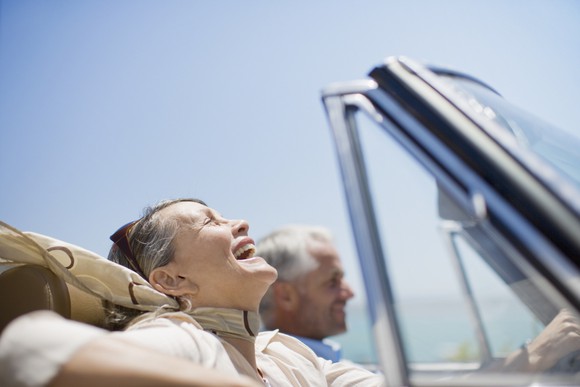 Image source: Getty Images.
Most people probably daydream occasionally about retiring early. But many will then shelve that idea away, assuming that they can't, or shouldn't, retire early.
Don't be one of those people. Take seriously the possibility of retiring early -- because it might be a smart move for you. Here are four reasons to retire as early as you can.
Reason No. 1: Carpe diem
This is the most-obvious reason to retire early: To lose the downsides of working (your commute, your annoying boss, the long hours), and finally get to do all the things you've wanted to do. You may, for example, have a big stack of books that you haven't gotten around to reading, or perhaps you've been itching to drive across the U.S. in an RV. Retirement can offer the chance to take on new projects, to volunteer more, and to establish a new daily routine.
If you've found it hard to have enough time to exercise, that can change in retirement -- and the ability to exercise, and perhaps cook healthier meals, can result in your living longer. Retiring early also means retiring younger -- so that you'll likely be healthier, and more able to do and enjoy what you'd like to do.
Remember, too, that some of us don't live as long as we thought we would. Between 1970 and 2010, the odds of dying before the age of 50 were cut in half, but that was only from 28% to 14%. It's hard to believe that you might die young, but lots of people do, without ever expecting it. If you're able to retire early, you can be more assured of some years where you're more free and able to pursue your interests.
Reason No. 2: You can collect Social Security benefits at age 62
You may think that you have no business collecting Social Security benefits until your full retirement age of, say, 67 -- or that you should even delay until age 70, in order to make those checks significantly better. That can seem smart, but know this: Social Security benefits are designed to deliver about the same amount of money to retirees, on average, no matter whether they start collecting at age 62 or 70.
Sure, starting at age 70 means bigger checks, but you'll get fewer of them. Starting at age 62 means smaller checks, but more of them -- 96 more of them, to be precise, between age 62 and 70.
It's a wash for many people. If you have reason to believe that you're likely to live a particularly long or short life, the time when you start collecting can take on more importance. But if you're likely to be average, starting early can be quite reasonable.
Reason No. 3: You can afford to
Another good reason to retire early is if you can afford to. If you have ample money in the bank, or coming to you via a pension, annuity, dividends, or other means, you may be all set financially. If so, think about whether you really want to toil for some more years at your job, or whether it might be better to embark on new adventures. (Of course, some of us really do love our jobs, and if so, continuing to work can be just fine.)
More signs that you can afford to retire are if your mortgage and other major loans are paid off, and if no one is depending on your income -- such as not-quite-independent children.
Reason No. 4: You can afford to -- even if you think you can't
Finally, you might retire early because you can afford to -- even if you think you can't afford it. How would that work? Well, run the numbers, and see just how much income you can produce for yourself annually, and how much you need. See just what your shortfall is.
As part of your planning, you can visit the Social Security website at www.SSA.gov in order to find out how much to expect from that program. If you're married, you might be able to collect more by coordinating when you start collecting with your spouse. Research some strategies for that.
Then think about ways to generate more income, or to cut costs. If you're creative, you might come up with some ways to make it work. For example, you could take in a boarder, or make extra money renting out a room via Airbnb. You may be able to augment your income by offering language or music lessons, or tutoring students in various topics.
To save on spending, you might downsize to a smaller home that costs you less in taxes, insurance, utilities, and maintenance. You might even move to a different part of the country, where the cost of living is lower. If you move from Denver to Tampa, for example, you'll find that housing is, on average, about 40% less expensive, and healthcare costs about 15% less, too. You can find plenty of cost-of-living comparison calculators by searching the internet.
Don't dismiss the idea of retiring early without at least spending a little time thinking about it, and considering how possible it might really be for you.
The $15,834 Social Security bonus most retirees completely overlook
If you're like most Americans, you're a few years (or more) behind on your retirement savings. But a handful of little-known "Social Security secrets" could help ensure a boost in your retirement income. For example: one easy trick could pay you as much as $15,834 more... each year! Once you learn how to maximize your Social Security benefits, we think you could retire confidently with the peace of mind we're all after. Simply click here to discover how to learn more about these strategies.
Longtime Fool specialist Selena Maranjian, whom you can
http://twitter.com/SelenaMaranjian
, owns no shares of any company mentioned in this article. Try any of our Foolish newsletter services free for 30 days. We Fools may not all hold the same opinions, but we all believe that considering a diverse range of insights makes us better investors. The Motley Fool has a disclosure policy.