Once upon a time, in the distant 2005 and 2006, the world just couldn't get enough of such subprime mortgage superstars as New Century Financial. In fact, some may have forgotten, but none other than David Einhorn was a director of New Century until March 2007, when suddenly everything fell apart and a few weeks later the company was bankrupt. The subprime collapse that followed, which contrary to Ben Bernanke's promises was "not contained", is what according to most catalyzed the plunge of the US economy into the greatest depression since 1929, led to the default of Lehman Brothers and nearly ended the financial system. 
Fast forward to 2014, when the US has a new subprime servicing superstar, which just like in 2006, also happens to be a hedge fund darling. The company: Ocwen Financial (a name which originated when some drunk banker or executive spelled Newco in reverse) which currently is responsible for servicing over $106 billion in subprime mortgages. A darling so prominent among the hedge fund community, it was one of the most beloved hedge fund hotel stocks in late 2012 and 2013, and judging by its current list of holders, still has a plethora of who-is-who hedge and mutual fund holders.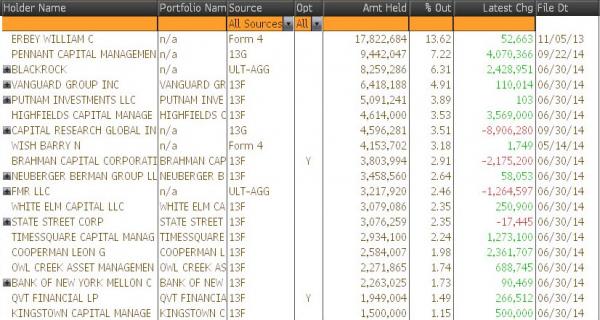 Well, in what may be a resounding echo of March 2006, moments ago the New York Superintendent of Financial Services said that Ocwen had engaged in abuses that could potentially harm hundreds of thousands of borrowers. As AP reports, the state regulator issued a letter Tuesday to Ocwen Financial Corp., documenting the same kinds of suspicious actions that worsened the housing crisis and the Great Recession.
Ocwen inappropriately backdated foreclosure warnings and letters that denied mortgage loan modifications, making it nearly impossible for borrowers to appeal the company's decision, according to the letter from Benjamin Lawsky, New York's Superintendent of Financial Services.

 

The letter refrains from saying whether the backdating was intentional or the result of poor oversight by Ocwen. The company managed $106 billion worth of subprime mortgages at the start of 2014, according to Inside Mortgage Finance.
Here is the full letter:
Moments ago Ocwen replied. Its explantion - nothing is criminal here, it was a glitch, see?
OCWEN ADDRESSES LETTER FROM NY DEPARTMENT OF FINL SERVICES
OCWEN INADVERTENTLY SENT IMPROPERLY DATED LETTERS
OCWEN CITES SOFTWARE ERRORS IN CORRESPONDENCE SYSTEMS
See: "software errors", i.e., glitches. So you must acquit
The full laughable statement:
Ocwen Financial Corporation (NYSE:OCN), the nation's largest independent mortgage servicer, today made the following statement in response to a letter it received from the New York Department of Financial Services ("DFS") related to erroneously dated borrower correspondence, and subsequent media coverage of the DFS's letter.

 

"Ocwen regrets that, due to software errors in our correspondence systems, we inadvertently sent improperly dated letters to some borrowers. As always, our goal is to avoid foreclosure. In the case of the 283 borrowers in New York who received letters with incorrect dates, 281 are currently borrowers with us. We are continuing to review the rest of the cases. We believe that we have resolved the letter dating issues that have been identified to date, and we continue our investigation as to whether there are additional letter dating issues that need to be resolved. We are working with and fully cooperating with DFS and the Monitor to address their concerns."
So will the US Superintendent of Financial Services, Benjamin Lawski, let this too be swept under the rug or will he inevitably fold, and pretend that nothing has happened, instead chosing to believe the company that it has now "fixed the glitch."
For now OCN's investors are not too happy and OCN was down some 15% after being unhalted. Down, that is, at least until the BTFD crew - completely oblivious of the fundamental reality - comes in, and bids the stock back into the green again. Because in the New Normal, the fraud is not in just one stock: it is the entire market.