CIRCLING THE DRAIN:
So last weeks turmoil is seemingly not over yet…..Was it simply a storm in a teacup brought on by another one of those market tantrums that erupt every now and again to keep everyone on their toes and eventually evaporate? Or was it a significant tremor giving pre warning of a major earthquake to follow?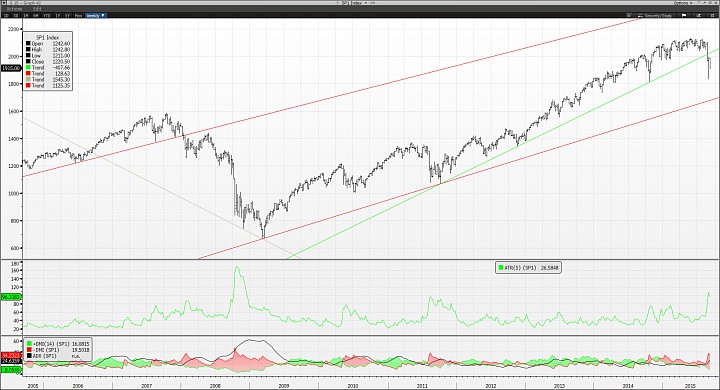 WAX ON WAX OFF;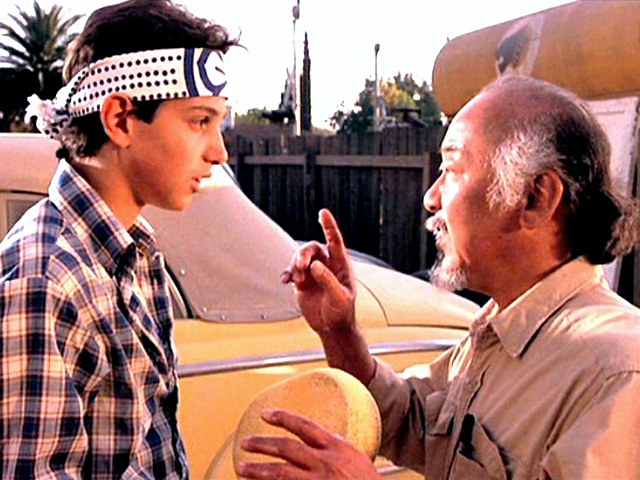 Historically September and October are not very good months for stocks and there are fundamental arguments for both sides.
The fact is that there is a lot more to worry about than to be confident of. 
There are clearly real concerns both internally and externally that the China's growth rate is running at closer to 5% than 7%, Brazil and Russia are in recession,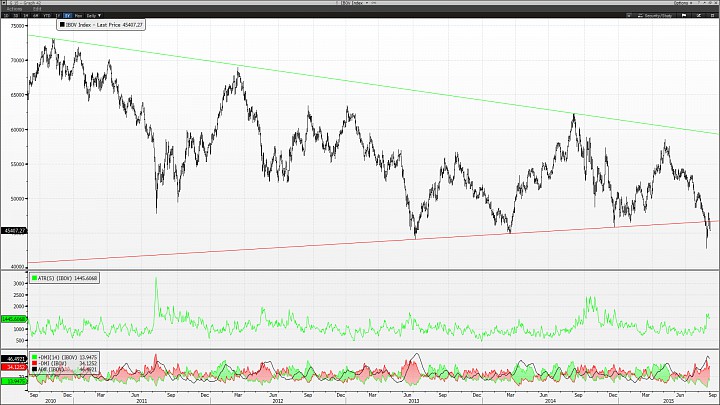 Emerging market countries are suffering massive capital outflows and are burdened with huge dollar debts, Abenomics is not delivering inflation in Japan, the Eurozone is an invalid, Greece is a month away from another potential exit crisis, Europe faces a migrant crisis and the Middle East is unstable. 
There is plenty of reason to be concerned especially when the global economy is in the anaemic state it is despite a zero interest rate environment and huge injections of QE. At the height of last week's crisis the proposed responses if the rout continued were for more of the same -- QE in China to be added to more QE in Japan and Europe. There was even a suggestion from the president of the Minneapolis Fed that the week's developments potentially justified "adding accommodation". All this despite evidence that the impact of each new injection is diminishing and creating side effects that are sowing the seeds of the next financial crisis.
THE CHARTS DON'T LIE
We broke ,we rallied to the multi year trend line  and now we have retreated again…..
Weekly S&P chart: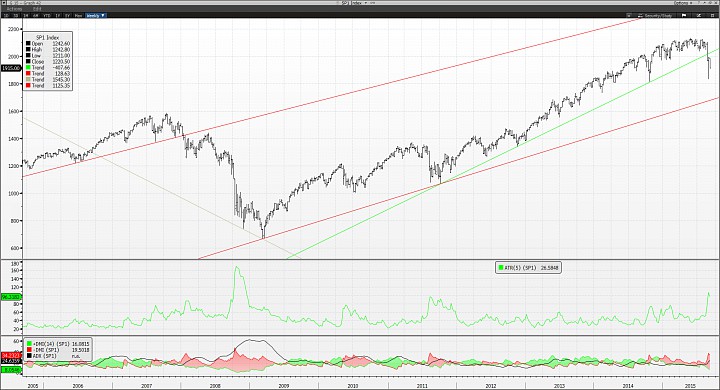 You really dont need to be a rocket scientist;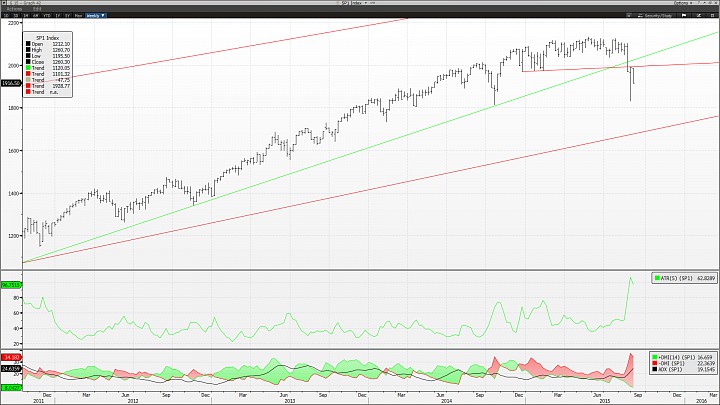 What I have not liked from the recent move is that the fixed income market that one would expect to flatten from his point has if fact steepened…this has been down to apparent Chinese liquidation of treasury positions;
YIELDS UP / STOCKS DOWN……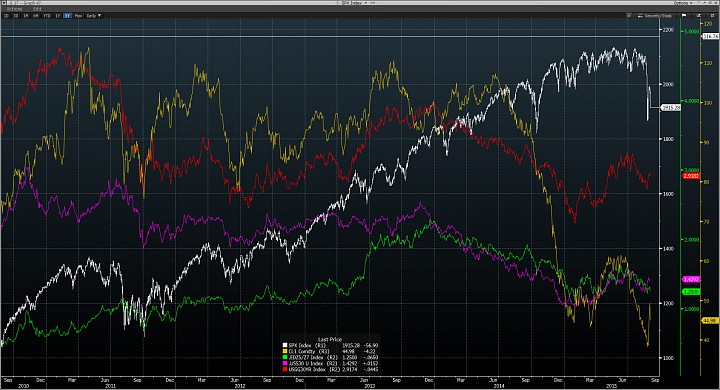 With everything for sale…the next 2 months could be quite hairy
In regards to more detailed and expert options and futures advice ,volatility analysis etc ,please contact Darren Krett,Bryan Fitzgerald or John Haden through www.maunaki.com or dkrett@maunaki.com 
"Futures and options trading involves substantial risk and is not for everyone. Such investments may not be appropriate for the recipient. The valuation of futures and options may fluctuate, and, as a result, clients may lose more than their original investment. Nothing contained in this message may be construed as an express or an implied promise, guarantee or implication by, of, or from Mauna Kea Investments LLC. that you will profit or that losses can or will be limited in any manner whatsoever. Past performance is not necessarily indicative of future results. Although care has been taken to assure the accuracy, completeness and reliability of the information contained herein, Mauna Kea Investments LLC makes no warranty, express or implied, or assumes any legal liability or responsibility for the accuracy, completeness, reliability or usefulness of any information, product, service or process disclosed."