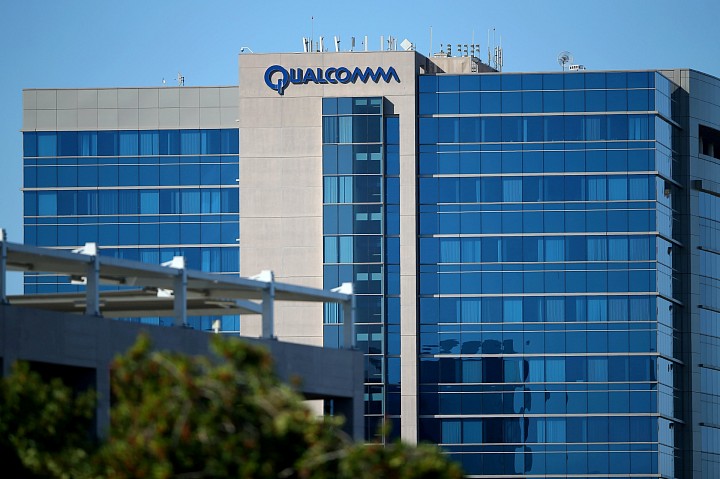 It isn't clear how much Broadcom would offer for Qualcomm, which currently has a market value of roughly $90 billion. There is no guarantee an approach will be made or that Qualcomm would be receptive. It is even less certain that there ultimately would be such a deal given potential regulatory and other hurdles.
Qualcomm is the market leader in chips that manage wireless communications in smartphones. It supplies chips for a portion of Apple Inc.'s AAPL 2.61% iPhones and its gear is at the heart of many high-end Android phones. Qualcomm also owns patents on technology essential to implementing cellular-communications standards, which allows it to collect a royalty on nearly every smartphone sold world-wide. And it is a front-runner in the emerging fifth-generation cellular standard known as 5G.
Broadcom sells a diverse line of equipment for networking and communications—including technology for smartphones from Apple and Samsung Electronics Co. —as well as data storage, electronic displays and set-top boxes. Like Qualcomm, Broadcom is a so-called fabless chip company, designing processors while relying on manufacturers such as Taiwan Semiconductor Manufacturing Co. to actually make them.
Broadcom used to be called Avago Technologies Ltd. In 2015, the company agreed to buy Broadcom for roughly $37 billion and changed its name to Broadcom when the deal closed. Broadcom had been best known as a supplier of highly specialized networking chips and its revenue was twice the size of Avago's at the time of the merger. Under Chief Executive Hock Tan, Broadcom has pursued a string of acquisitions.
Both Broadcom's origins and its move to purchase Qualcomm reflect a broad wave of consolidation in the semiconductor industry in recent years that has driven Qualcomm's own $39 billion proposed deal for NXP Semiconductors NV. The companies are still seeking regulatory approval for that deal. In another sign of the deal-making push, Marvell Technology Group Ltd. is in advanced talks to combine with Cavium Inc., The Wall Street Journal reported Friday, a deal that would create a chip maker worth some $14 billion.
Chip makers are aiming to boost declining revenue as competition cuts into prices. Semiconductors are central to digital technology and have infiltrated an ever broader range of products as computing and wireless-communications functions become indispensable in products ranging from cars and doorbells to factory equipment.
Broadcom and Qualcomm have largely complementary product lines. By purchasing Qualcomm, Broadcom would get cellular technologies that have proven enormously valuable—and in which Broadcom in its earlier incarnation failed to gain a foothold.
The companies overlap in Wi-Fi and Bluetooth technology, which could draw antitrust scrutiny to any deal. "That's a huge regulatory issue," said Patrick Moorhead, an analyst with Moor Insights & Strategy. "They're the two biggest in the business."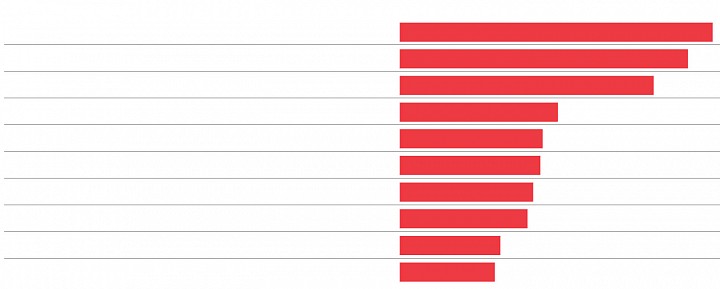 Qualcomm lately has faced scrutiny from antitrust agencies in several jurisdictions worldwide, including the U.S., where the government's case is pending. The company has paid hefty regulatory fines in China, South Korea and Taiwan.
Broadcom's Mr. Tan is known for managing lean operations, and he could wring efficiencies out of Qualcomm, said analyst Stacy Rasgon of Bernstein Research. Moreover, Mr. Tan's relationship with Apple could be helpful in resolving the bitter legal battle between the iPhone maker and Qualcomm.
That battle appeared to escalate this week, when the Journal reported that Apple is designing iPhones and iPads for next year that would jettison Qualcomm's components as it considers using only modem chips from Intel Corp. and possibly MediaTek Inc. Qualcomm shares dropped substantially on the news.
It isn't clear what a deal between Broadcom and Qualcomm would mean for Qualcomm's effort to buy NXP, which was announced over a year ago. That deal was originally scheduled to close by the end of the year, but recently Qualcomm acknowledged the timing could slip into 2018.
NXP shares fell 2.1% to close at $115.02 on fears that a bid from Broadcom for Qualcomm could jeopardize the NXP deal.
Qualcomm shares, meanwhile, rose 12.7% to close at $61.81 after Bloomberg reported that Broadcom was considering a deal for the company and the Journal reported that a bid was imminent. Broadcom shares rose 5.4% to $273.63.
Activist shareholder Elliott Management Corp. has been pushing for a higher price in the NXP deal than the $110 per share Qualcomm agreed to pay. Elliott has retained investment bank UBS Group AG to help it in the effort and to seek another potential bidder for NXP, the Journal reported Thursday. It isn't clear if Elliott or UBS has been in communication with Broadcom.
News of the potential bid surfaced just a day after Singapore-based Broadcom announced plans to bring its headquarters back to the U.S., with Mr. Tan heralding the move in a news conference at the White House with President Donald Trump. Broadcom cited the potential for lower U.S. corporate rates, though investors expressed uncertainty about what it might mean for the company's tax bill.
Either way, analysts said that a U.S. domicile for Broadcom could boost its ability to complete its proposed acquisition of Brocade Communications Systems Inc.
The companies have been trying to complete the $5.5 billion tie-up since last year but the transaction has been delayed due to a review by the Committee on Foreign Investment in the United States. Broadcom said the domicile change will occur regardless of whether a tax overhaul is passed in the U.S.
Write to Dana Mattioli at dana.mattioli@wsj.com and Ted Greenwald at Ted.Greenwald@wsj.com
More