On Tuesday, October 24th, Advance Micro Devices (AMD) will release its third quarter earnings results after the bell. The company is a Zacks Rank 3 (Hold), and have a Value, Growth, and Momentum score of C.
Dave will look at AMD's past earnings, take a look at what is currently going on with the company, and give us his thoughts on their upcoming earnings announcement.
Furthermore, Dave will uncover some potential options trades for investors looking to make a play on AMD ahead of earnings.
AMD in Focus
Advanced Micro Devices, Inc. is a world-class company with the innovation, execution, and vision to grow our leadership position in the industry. Today's world-class companies share three essential characteristics. First, they deliver innovative products and technologies that customers want. Second, they have established a proven track record of fast, efficient manufacturing execution. And third, they have a bold vision of where to take their business, and often their industry. Over the course of AMD's three decades in business, silicon and software have become the steel and plastic of the worldwide digital economy. Technology companies have become global pacesetters, making technical advances at a prodigious rate always driving the industry to deliver more and more, faster and faster. AMD's dedication to customer-centric innovation and competitive spirit is an unbroken thread running from our early days in the integrated circuit business, through an ever-broadening product portfolio.
AMD is expected to report earnings at $0.08 per share according to the Zacks Consensus Estimate. Last quarter they reported earnings at $0.02 per share, beating their estimate of $0.00.
Advanced Micro Devices, Inc. Price, Consensus and EPS Surprise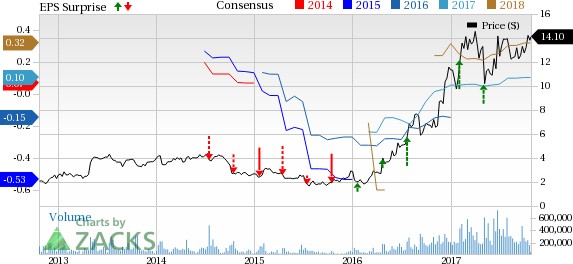 Advanced Micro Devices, Inc. Price, Consensus and EPS Surprise | Advanced Micro Devices, Inc. Quote
Bottom Line
How should investors play AMD ahead of their earnings report? For insights on the best options trades, then tune in at 11:00am CST today to see David's thoughts.
Today's Stocks from Zacks' Hottest Strategies

It's hard to believe, even for us at Zacks. But while the market gained +18.8% from 2016 - Q1 2017, our top stock-picking screens have returned +157.0%, +128.0%, +97.8%, +94.7%, and +90.2% respectively.

And this outperformance has not just been a recent phenomenon. Over the years it has been remarkably consistent. From 2000 - Q1 2017, the composite yearly average gain for these strategies has beaten the market more than 11X over. Maybe even more remarkable is the fact that we're willing to share their latest stocks with you without cost or obligation.

See Them Free>>
Want the latest recommendations from Zacks Investment Research? Today, you can download 7 Best Stocks for the Next 30 Days.
Click to get this free report
Advanced Micro Devices, Inc. (AMD): Free Stock Analysis Report
To read this article on Zacks.com click here.
Zacks Investment Research