10:56 am Petrobras Brasileiro announces that it has decided to include tax debits in the Special Installment Program; negative impact for Q3 results is R$2 bln, net of taxes (PBR) : Since the publication of the above-mentioned regulatory instruments, Petrobras has been reassessing its federal tax litigation in order to identify eventual proceedings that can be included in the REFIS. These debits refer to the non-collection of Withholding Income Tax on remittances to the subsidiary Petrobras International Finance Company in payment for the importation of oil and oil products between 1999 and 2002, 2004, 2005 and from 2007 to 2012.
The inclusion of these debits, whose updated amount is R$6.0 billion, in the REFIS, will save the Company 50% by reducing the liability to R$3.0 billion, R$876 million of which will be settled with tax loss carryforwards. The total disbursement will therefore be R$2.1 billion, R$1.26 billion of which from the conversion of the court deposit to be paid definitively and the remainder to be paid in installments, with disbursement of R$536 million in 2015 and R$ 333 million between 2016 and 2017.
The negative impact on the Company's results for the third quarter of 2015 will be R$2.0 billion, net of taxes.
The decision to adhere to the program was based on the potential financial benefits and on an analysis of risk based on possible unfavorable decisions in both the legal and administrative spheres. At the reporting date of the 2Q2015 financial statements, this analysis was not complete, which only occurred on August 13, 2015. In addition, taking the issue to the judicial sphere would require the constitution of guarantees, as well as a substantial increase in the amount of the debt over time due to interest and additional financial charges and the risk of the cancellation of the Federal Tax Clearance Certificate, which would result in significant losses for the Company. As the term for including notified tax debits expires in September 2015, the Company is continuing to reanalyze the litigation to identify other debits that can be settled through the Program.

10:56 am Currency Commentary: Volatility Subdues (:SUMRX) :
The Dollar Index appeared ticketed for its first test of 96 support since July 9 but was able to bounce at 96.08. The index is now back to the 96.30 level which is where the 50- and 100-smas sit. Economic data was generally supportive of the September rate hike story as PPI was hotter than expected while Industrial Production outpaced expectations. The forward looking Michigan Sentiment did undershoot consensus but only by a small margin.
The euro is lower today but has been able to hold the 1.11 area and, more importantly, the prior downward trend line. Q2 GDP numbers have come in weaker than expected which has led to some softness in the single currency. But the short term trend here remains upward as the market continues to see signs of a Greek debt deal getting competed. Greece passed the bill but defections in the Syriza party are leading many to believe the government will fail a confidence vote expected later this month. That would lead to snap elections in the fall. Expectations are the a more centrist coalition would end up seizing control.
The pound has pushed into the 1.56 level and is challenging resistance levels at the 1.5660 area that has been in place over the past month. The currency has been in a tight consolidation range and there has been little in the way of news or sentiment to change that pattern. So it will have a difficult task breaking out from here.
The yen continues its uneventful ride through the 124 area. The yen pattern has been pretty much like clockwork over the past two years. Trade in a tight consolidation range until we get a convergence of key moving average levels. Once this is hit it has slipped lower. Right now we are in the consolidating phase which is likely to continue for the foreseeable future (BONDX, FOREX).

10:52 am PennantPark Floating Rate Capital and MCG Capital (MCGC) announce their shareholders have approved the companies' merger agreement; closure expected on August 18, 2015 (PFLT) :
10:49 am American Water Works announces that Moody's has upgraded its corporate credit rating to A3 from Baa1 (AWK) :
10:49 am Major averages slip further off morning highs, lagging Nasdaq Comp -9.9 hovering just above its opening low -- Dow +16, S&P +0.6 (:TECHX) :
10:34 am Underperforming Nasdaq Comp -2.3 slips back into the red but holding above early low (:TECHX) : Relative sector weakness in Semi SMH -1% and Biotech IBB -1% have weighed.
10:11 am S&P +3 trims slide off yesterday's high in half at 2087 and pauses -- Dow +38, Nasdaq Comp +1.2 (:TECHX) :
9:54 am Technology Sector Summary: Tech Sector Trades In-line With Broader Market (:SUMRX) : The tech sector -- XLK (+0.2%) -- trades in-line with the broader market. Semiconductors, meanwhile, display relative weakness as the SOX index trades -0.4%. Within the SOX index, AMD (+1.1%) outperforms, while ASML (-3.1%) lags. Among other major indices, the SPY is trading 0.2% higher while the QQQ +0.1% and the NASDAQ +0.1% follow right behind. Among tech bellwethers, INTC (+0.2%) has shown some relative strength while GOOGL (-0.5%) lags.
Notable gainers following earnings:
GLOB (+1.6%) and YY (+2.4%) reported bottom-line beats and GLOB guided higher.

Notable laggards following earnings:
AZPN (-14.6%), KING (-9.9%), PCTY (-7.9%), and ANY (-10.0%) despite beating bottom-lie estimates

Gainers on news:
LLNW (+1.1%) despite announcing a loss in a patent infringement case against AKAM (-1.0%)

Laggards on news:
AAPL (-0.1%) reportedly plans to delay its live TV service until 2016

Among notable analyst upgrades:
CYBR (+2.5%) upgraded to Outperform from Market Perform at Wells Fargo ADS (+0.7%) upgraded to Overweight from Neutral at JP Morgan

In downgrades:
KING (-9.9%) downgraded to Neutral from Overweight at JP Morgan WEX (-0.9%) downgraded to Underweight from Neutral at JP Morgan

9:52 am Tata Motors reports that global wholesales in July 2015, including Jaguar Land Rover, were at 73,535 nos., lower by 8%, over July 2014 (TTM) : Cumulative wholesales for this fiscal at 3,07,017 nos., remained flat, over last fiscal. Global wholesales of all Tata Motors' commercial vehicles and Tata Daewoo range in July 2015 were 30,278 nos., lower by 3%, compared to July 2014. Cumulative commercial vehicles wholesales for this fiscal at 117,040 nos., remained flat, over last fiscal. Global wholesales of all passenger vehicles in July 2015 were at 43,257 nos., lower by 12%, compared to July 2014. Cumulative passenger vehicles wholesales for this fiscal at 189,977 nos., remained flat, over last fiscal.
9:51 am Relatively limited trade persists but indices attempting to work higher -- Dow +38, S&P +3.4, Nasdaq Comp +4.5 (:TECHX) :
9:44 am FEMSA announces it will enter the drugstore business in South America by confirming it would acquire a majority equity stake in Grupo Socofar, which operates under the Cruz Verde and Maicao banners (FMX) : The co announced that it has agreed to acquire a majority equity stake in Grupo Socofar, a South American drugstore operator based in Santiago, Chile. Socofar operates 643 drugstores and 154 beauty stores throughout Chile under the Cruz Verde and Maicao banners, respectively. In addition, Socofar controls Farmasanitas in Colombia that operates over 150 pharmacies, in-site pharmacies and dispensary units under the Cruz Verde/Farmasanitas banners.
The co is acquiring 60% of the equity of Socofar funded from cash-on-hand.
The enterprise value of the company is $998 million, and for the last twelve months ended June 2015, Socofar revenues were $1,836 million.
The current controlling shareholders of the equity of Socofar will remain as owners of 40% of the equity. FEMSA Comercio will exercise day to day operating control, and the current controlling shareholders will appoint two members to the Board, including the role of Chairman so that they may continue to provide leadership and operating experience to the organization.
9:42 am Opening Market Summary: Energy Sector Displays Early Strength (:WRAPX) : Equity indices began the trading day just below their flat lines and they remain near those levels at this time.
The energy sector (+0.5%) has charged out of the gate amid a rebound in crude oil that has sent the energy component higher by 1.5% to $42.86/bbl. Meanwhile, the other commodity-related sector-materials (+0.1%)-also trades in the green while the remaining groups hover closer to their flat lines.
Elsewhere, Treasuries have extended their losses with the 10-yr yield now up three basis points at 2.21%.
The preliminary reading of the Michigan Sentiment Index for August will be released at 10:00 ET (Briefing.com consensus 93.7).
9:41 am Golar LNG announces that Chairman Frank Chapman has decided not to stand for re-election at the next annual meeting; the Board nominates Dan Rabun to potentially succeed Chapman (GLNG) : Rabun was, until May 2015, Chairman of Ensco PLC (ESV)
9:36 am Mixed bias in the early going -- Dow +4, S&P +1, Nasdaq Comp -1.5 (:TECHX) : Sectors that have helped to underpin thus far this morning include: Gold Miners GDX, Crude Oil USO, Oil Service OIH, Silver SLV, Energy XLE, Gold GLD, Social Media SOCL, Auto.
9:31 am BNC Bancorp signs an agreement to acquire Southcoast Financial Corporation (SOCB), in a stock transaction valued at $95 mln (BNCN) : Southcoast Financial (SOCB), headquartered in Mt. Pleasant, South Carolina, operates 10 branches in Mt. Pleasant, Charleston, Moncks Corner, Johns Island, Summerville, Goose Creek and North Charleston, South Carolina. As of June 30, 2015, Southcoast reported ~$506 million in assets, $383 million in loans, and $361 million in deposits. Upon completion of the transaction, BNC is expected to have approximately $6.0 billion in assets, $4.5 billion in loans, and $4.9 billion in deposits.
The transaction is expected to be immediately accretive to BNC's fully diluted earnings per share and tangible book value per share, excluding deal costs.
Southcoast shareholders will receive a fixed price of $13.35 for each share of Southcoast common stock, payable in shares of BNC common stock based upon the 20-day volume weighted average price of BNC common stock prior to the closing of the merger.
The transaction is expected to close in Q1 of 2016

9:28 am Equinix (EQIX) to join the MSCI US REIT Index; will take effect after the close of trading on Monday, August 31, 2015 (:INDXCH) :
9:21 am Mylan Labs issues a statement, regarding a report issued by the proxy advisory firm ISS, relating to its proposed acqusition of Perrigo (PRGO) (MYL) : Co noted that other proxy advisory firms, Glass Lewis and Egan-Jones, earlier in the week issued reports recommending Mylan shareholders vote in favor of the Perrigo (PRGO) transaction.
It stated: "While today's report from ISS repeatedly recognizes the clear industrial logic and solid business strategy of combining Mylan and Perrigo, it misunderstands and/or underestimates, without a meaningful basis, many other key aspects of the transaction.

In particular, ISS fails to comprehend the potential for medium and long-term value creation for Mylan shareholders, the compelling synergy opportunity, the potential for meaningful multiple expansion and the ability to take advantage of the continuing consolidation in our industry
We remain firm that we expect at least $800 million of annual pre-tax operational synergies by the end of year four, substantial free cash flows and meaningful multiple expansion."

9:16 am S&P futures vs fair value: -1.10. Nasdaq futures vs fair value: -4.10. (:WRAPX) : The stock market is on track for a modestly lower open as S&P 500 futures trade one point below fair value. Index futures notched their highs around the start of the European session, but they have headed lower since then.
There was no news associated with the early-morning turn, but the overnight dynamic has fit right in with the recent choppy action in the market.
Meanwhile, U.S. Treasuries have notched fresh lows not long ago after the Producer Price Index for July came in ahead of expectations (+0.2%; Briefing.com consensus 0.1%). The 10-yr note holds a slim loss with its yield up two basis points at 2.20%.
Separately, the just released Industrial Production report pointed to an increase of 0.6% in July, which was better than the 0.3% increase expected by the Briefing.com consensus. Capacity utilization hit 78.0% which is what the Briefing.com consensus expected.
One more data point remains with the preliminary reading of the Michigan Sentiment Index for August scheduled to be released at 10:00 ET (Briefing.com consensus 93.7).
9:11 am xG Technology prices its offering of 2.55 mln Class A units at $1.00/unit (XGTI) : The co announced the pricing of a public offering of (i) 2,550,000 Class A Units, at a price of $1.00 per Class A Unit, each of which consists of one share of its common stock and 0.5 of a Series A Warrant to purchase one share of its common stock at an exercise price of $1.00 per warrant, (ii) 2,450,000 Class B Units, at a price of $0.99 per Class B Unit, each of which consists of one pre-funded Series B Warrant to purchase one share of its common stock and 0.5 of a Series A Warrant, (iii) 2,550,000 Series C Warrants, at a price of $0.01 per Series C Warrant, which is deemed to be included in the $1.00 price per Class A Unit, each to purchase one additional Class A Unit at an exercise price of $1.00, and (iv) 4,950,000 Series D Warrants, at a price of $0.01 per Series D Warrant, which is deemed to be included in the $0.99 price per Class B Unit, each to purchase one additional Class B Unit at an exercise price of $0.99.
The Company expects to receive approximately $5,000,000 in gross proceeds, before underwriting discounts and commissions and offering expenses payable by the Company.

9:07 am Applied Micro also reiterates guidance provided for the September quarter (AMCC) : Prior guidance: Q2 (Sep) EPS of ~($0.03) vs. ($0.03) Capital IQ Consensus Estimate; sees Q2 (Sep) revs of ~$39 mln vs. $39.13 mln Capital IQ Consensus Estimate. "We are heartened by our increasing customer traction and remain confident about AppliedMicro's growth prospects for the balance of fiscal 2016 and beyond." (reported earnings late July; next qtr expected late October)
9:05 am Alico discloses its Board has authorized a repurchase program of up to 100k shares of its outstanding common stock (ALCO) : The authorization is effective August 13, 2015 and will expire on August 13, 2016.
9:02 am Ethan Allen: Sandell Asset Mgmt sends a letter to the company, confirming it is prepared to nominate a slate of directors for its October 15 annual meeting (ETH) :
The group sent a letter to Farooq Kathwari, the Chairman and CEO of Ethan Allen. In the letter, Sandell notes its belief that the Company's stock is trading at a significant discount to its intrinsic value, which Sandell believes is ~$41 per share, or over 30% above where the stock is currently trading.
Sandell believes that the Company's extensive portfolio of real estate assets may be worth approximately $450 million, or about $16 per share, and that the Company has the ability to greatly enhance shareholder value through either a recapitalization and a monetization of its real estate holdings, or through a sale to a private equity firm. The group believes that either path would result in a value of at least $41 per share delivered to shareholders.
The group stated that Ethan Allen on August 12, responded to Sandell's overtures to the Company by manipulating the corporate franchise and advancing the date of its 2015 Annual Meeting of Shareholders to October 15.

In response, the group announced it is prepared to nominate a slate of Director candidates to stand for election at the Company's 2015 Annual Meeting, although it hopes to re-engage with the Company to reach an amicable resolution and avoid a proxy contest.
9:01 am Baxter and Water Street Healthcare Partners announce FDA approval of the CEFAZOLIN Injection in GALAXY Container (BAX) : Baxter anticipates launching CEFAZOLIN injection 2 gram frozen premix in its GALAXY container in the United States in the fourth quarter of 2015.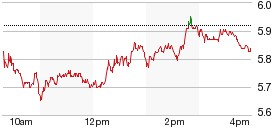 9:00 am Nordson increases quarterly dividend 9% to $0.24/share from...
More