It's been a rollercoaster of a year for the biotech industry, with the decline that started in the middle of last year continuing into this year, a recovery from those lows after a few gyrations, a pre-election decline on fears of price controls, and a recovery when Donald Trump, rather than Hilary Clinton, was elected. Here's the performance of one index fund, the iShares NASDAQ Biotechnology Index ETF: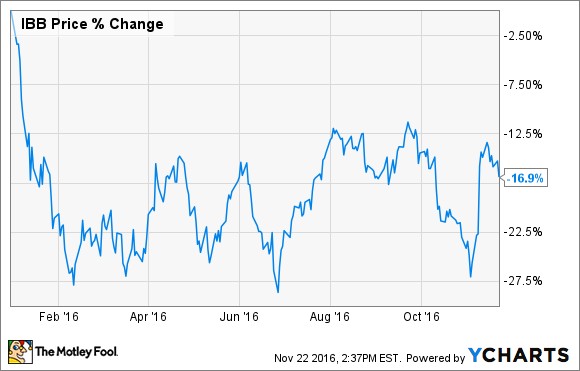 Here's a look at the more memorable things that happened this year and some lessons learned.
IPOs slow
There were 55 initial public offerings (IPOs) of drug companies on U.S. exchanges last year, but that shrank to just 29 so far this year. The slowdown isn't too surprising, considering the pent-up demand for capital led to a bolus of companies ready to ask for public money that has since been worked through. The struggling biotech stock indexes certainly didn't help the start-ups find willing buyers for their initial offerings.
Two biotechs worth keeping an eye on -- but not necessarily investing in right now -- are involved in gene editing: Editas Medicine and CRISPR Therapeutics. Both are using a new technique called "clustered regularly interspaced short palindromic repeats" (CRISPR) to edit patients' DNA. With a new technique, there's bound to be technical issues that need to be overcome, plus some unresolved issues over patents; those make these companies either buy-and-forget investments for the ultra-long term, or more appropriate for most investors' watch lists.
Deals continue
As is usually the case, there were plenty of acquisition and licensing deals this year. Two that stand out:
Pfizer's (NYSE:PFE) $14 billion takeout of Medivation. Investors benefited from a bidding war, which started with Sanofi showing interest, but others were also reportedly involved.
Celgene (NASDAQ:CELG)'s giving Juno Therapeutics (NASDAQ:JUNO) $1 billion, including some equity investment, in a 10-year agreement that grants Celgene rights to Juno's immune-cell...
More