Recently, there was a feeling that the US economy might be getting back some traction. The FOMC sounded slightly more optimistic. Today's Advanced GDP data for Q2 did NOT support this optimism. But it is not THAT bad. Still, the USD is reeling after the release.
First, let's take a look at the GDP report
For Q2 q/q
Actual: 1.2%
Forecast 2.6%
Previous 1.1% (revised up from 0.8%)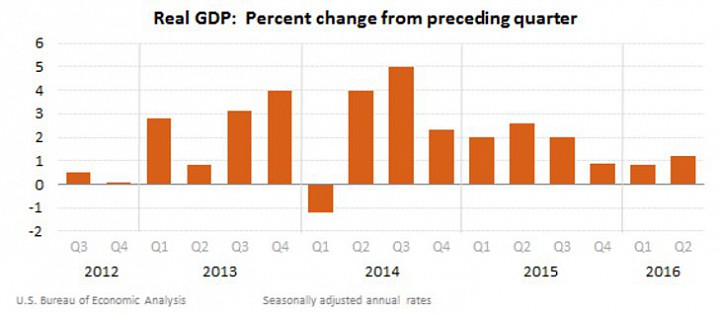 (Courtesy of the Bureau of Economic Analysis)
* The chart above does not reflect the revision for Q1 GDP, which should be 1.1% not 0.8%. 
The official report on the BEA site: Advanced GDP q/q Q2 2016
The GDP price index, which is a broad measure of inflation improved in Q2:
Actual: 2.2%
Forecast: 1.9%
Previous: 0.4% (revised down from 0.7%)
I think the data is not strong enough to support a rate hike in September and that is why the market is fading the USD. I think the USD will indeed be pressured for a while especially against the JPY. I talked about USD/JPY's downside after the BoJ policy meeting.
I think the AUD and NZD will also continue to strength against the USD as they have done all year. 
With bearish tailwinds, the EUR and GBP will likely have a tougher time advancing against the greenback. 
Whether the CAD can reverse the trend in the past 2 weeks will likely depend on oil prices. Following the US GDP data, CAD is gaining on the USD. However, if oil prices continue falling, USD/CAD should stay north of 1.30.