The  big news today out of the UK was the fact that the BOE said that the unemployment rate may fall to 7% a full 18 months earlier than the central bank had anticipated - this being extremely important to their decisions around interest rates as part of its "forward guidance" policy.
Here's a few charts (courtesy of
Market Economics
) to give you a very nice overview of the UK labor market: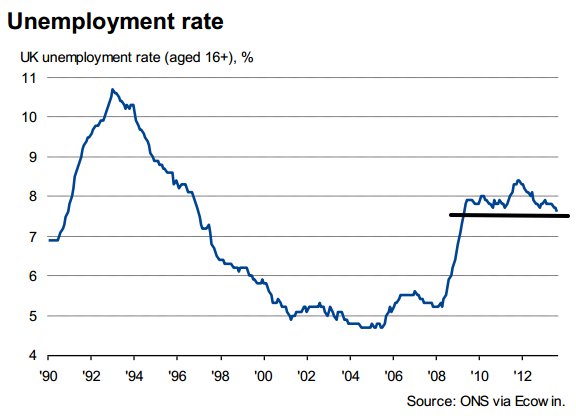 The unemployment rate in September was 7.6%, and the chart of the jobless rate resembles one of our favorite technical patterns - a head and shoulders.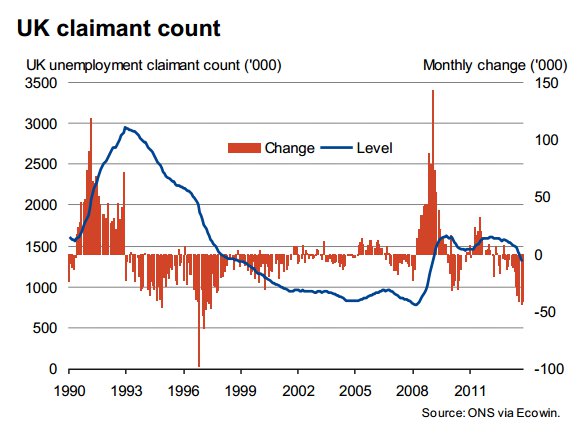 Next, here's the claimant count or the number of Britons claiming unemployment benefits. Today we saw that in October this claimant count shrunk by another 41.7K, following a drop of 44.7K in September. These are very good numbers and as we can see from the chart above, some of the best since 1997.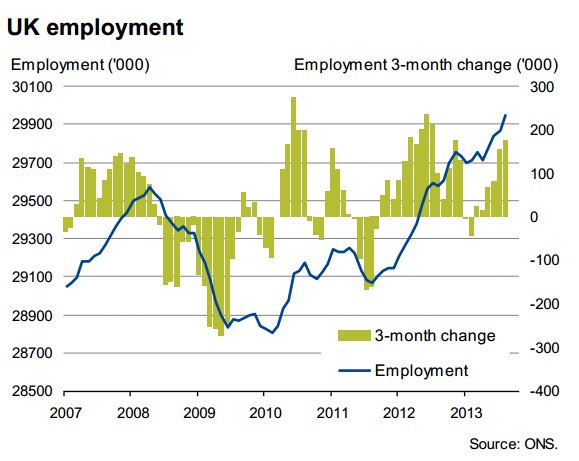 Finally, here's a chart of the number of people employed and here too looking at the trend we see a very steady increase over the last few months helping to nudge the total number of employed to new record highs after a gain of 177K in the 3 months to September.
So while yesterday we saw data that would undermine the GBP (low inflation numbers) today we see strong employment data that should help the GBP. Which will dominate? The fact that the BOE changed its expectations for the labor market may have a stronger impact because of the impact it has on "forward guidance" and we should look at the EUR/GBP as the best currency pair to take advantage.