Comment
AMD (NASDAQ: AMD) has been fighting a losing war against Nvidia (NASDAQ: NVDA) in high-end GPUs over the past decade. AMD controlled nearly half the dedicated GPU market back in 2006. But by the first quarter of 2016, AMD controlled just 23% of the market, according to research firm JPR, while Nvidia controlled the remaining 77%.
The bears believe that AMD will fall behind Nvidia in GPUs and Intel in CPUs, and end up pigeonholed in niche markets like embedded processors. But there's also a more bullish narrative anchored in virtual reality .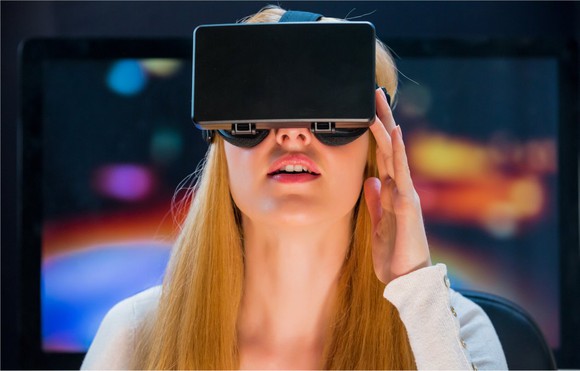 Image source: Getty Images.
In that thesis, console and headset makers will use AMD's APUs (which combine CPUs and GPUs), because they're generally more cost effective than stand-alone CPUs and GPUs. AMD's new "VR-ready" add-in graphics boards could also enable consumers to build cheaper PCs which can run apps for high-end headsets like Facebook 's(NASDAQ: FB) Oculus Rift or HTC and Valve's Vive. Let's discuss that second theory, and see if AMD can challenge Nvidia in the low-end VR-ready GPU market.
Meet AMD and Nvidia's low-end VR GPUs
AMD's cheapest VR-ready GPU is the RX 480, which has a base clock speed of 1.3 Ghz, 4GB of VRAM, and costs $200. Nvidia's competing device is the GTX 1060, which has a base clock speed of 1.5 Ghz, 6GB of memory, and costs $250.
Early benchmarks on the two devices at PCEVA indicate that the 1060 offers 6%-7% better graphics performance on the latest version of 3DMark's Time Spy DirectX 12 benchmark. Those results are encouraging for AMD, since some customers might question the value of paying 25% more for a 7% performance boost.
They're also better than the "leaked" 3DMark Firestrike benchmarks from XFastest in early July, which indicated that the 1060 could outperform the RX 480 by 15%. However...
More