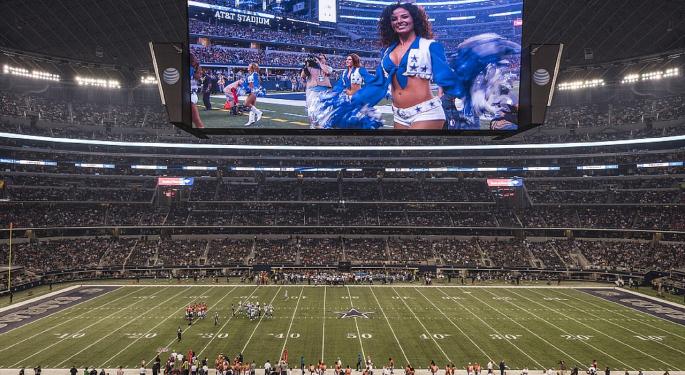 It's no surprise the NFL has suffered a huge ratings drop this year.
There's a laundry list of items that has plagued the league recently; From deflated footballs and endzone celebrations with minor importance to issues such as player safety, domestic violence, and an overall deteriorating on-field product. Football fans certainly have reacted more so to these latter issues, as ratings for Week 8's Sunday Night Football on NBC were down 22 percent year-over-year.
Media mainstays like Walt Disney Co's NYSEDIS ESPN have struggled from this drop, but has the beloved Madden video game felt the crunch of a decline in popularity?
Given the ratings struggles of ESPN and CBS Corporation NYSECBS, has Electronic Arts Inc. EA 1.98% seen a decline in unit sales?
Benzinga reached out to Sam Naji at NPD Group to get comprehensive data on the past three years of Madden releases.

There is a clear decline in unit sales each year in physical units sold in retail. What's more interesting is that, in terms of critic reviews, Madden has continued to improve each year since late 2013. Numbers are a combination of PS4 and Xbox 1 percentages.
Madden NFL 25- 73.5%
Madden NFL 15- 80.5%
Madden NFL 16- 83.5%
So, what can we ascertain from this retail unit data?
It depends. One can look at it as an interesting trend of slowing retail unit sales. However, Oppenheimer's Andrew Uerkwitz mentioned in a note that Madden NFL 17 playtime "hit a five-year record in Q2" while the company also saw year-over-year engagement growth on NFL mobile.
EA's VP Corporate Communications John Reseburg told Benzinga that Madden's Ultimate Team is bigger than ever, up 20 percent year-over-year. Reseburg said that current Madden players logged 44 million hours of gameplay in the quarter.
While the initial hype in Madden releases may not attract the same first-month sales as it once did, fans continue to be 'in the game' over the long haul.
Date
Firm
Action
From
To
Oct 2016
Cowen & Co.
Downgrades
Outperform
Market Perform
Oct 2016
Bank of America
Downgrades
Buy
Neutral
Sep 2016
Morgan Stanley
Initiates Coverage on
Overweight
© 2016 Benzinga.com. Benzinga does not provide investment advice. All rights reserved.