The Aussie has been strong in today's session, following the RBA decision and statement last night. The question is whether the Aussie can sustain any gains it puts together. It has been sold sharply against the JPY and USD, as investors fled carry trade pairs, the RBA continued cutting rates, and the Chinese economy wobbled in the 1st half of the year.
It seems that a few of those factors have been remedied, mainly 1) China looks to be bouncing back, with a string of decent reports the last 2 months - though there are some concerns with credit growth. And, 2) the RBA took out its language about "scope for further easing". An end to its rate cutting campaign should support the AUD.
Therefore, there is scope for a AUD rally, despite its recent troubles.
Looking at the AUD/JPY, we have interesting price action.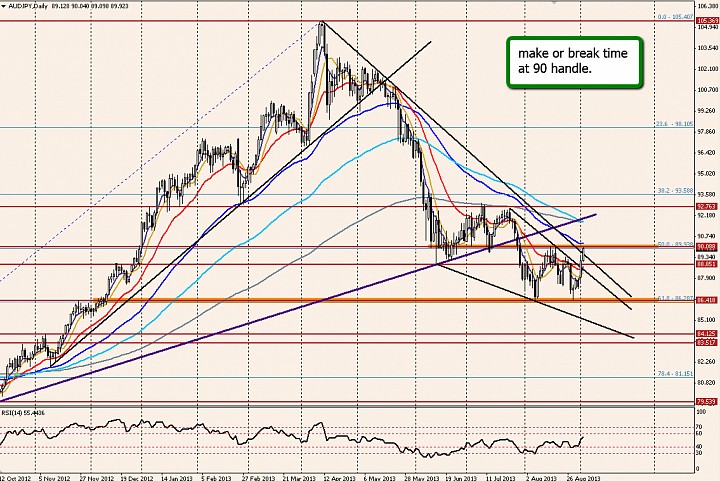 There is a long-term downward sloping trend-line, which we are currently testing.
We have a short-term downward sloping "speed-line", that has been broken.
We come up to an important level (the 90.10-90.00 area) which has acted as support, now turned to resistance.
Break of that resistance, the first upside target is 92.75.
If resistance holds, and AUD loses momentum, or JPY strengthens, then short towards 86.50. 
- Nick