Both department store companies released weak numbers last week. Is it the weather or not?
Kimberly White / Getty Images
Macy's and Nordstrom, in explaining a tepid quarter of sales to Wall Street last week, told two different stories on coats — coat tales, if you will.
Macy's said sales of "cold weather merchandise" like coats and sweaters fell significantly from last year, with unusually warm weather contributing to a decline in the three months ended Oct. 31. Nordstrom, however, said its coat business "has been really strong," in response to analyst questions on the impact of weather during the quarter. Jamie Nordstrom, president of stores, added there's "not really a seasonal component to where we've seen transactions slow down."
The contrasting remarks underscore how challenging the American consumer is to assess right now for retailers and Wall Street — a troublesome detail ahead of the all-important holiday shopping season. Macy's and Nordstrom were among the biggest losers in the S&P 500 last week after Macy's cut its profit forecast for the year and Nordstrom's profit fell short of analysts' expectations.
"It's just a traffic thing," Jamie Nordstrom said on Thursday's earnings call. "We've got less people buying clothes this quarter than we expected and there's really nothing else to point to."
But when asked to drill into the traffic, Nordstrom couldn't shed much light on what's going on, with CFO Michael Koppel responding: "Clearly, there's been a lot of commentary out there as to what potentially is causing this. It might be one, it might be all."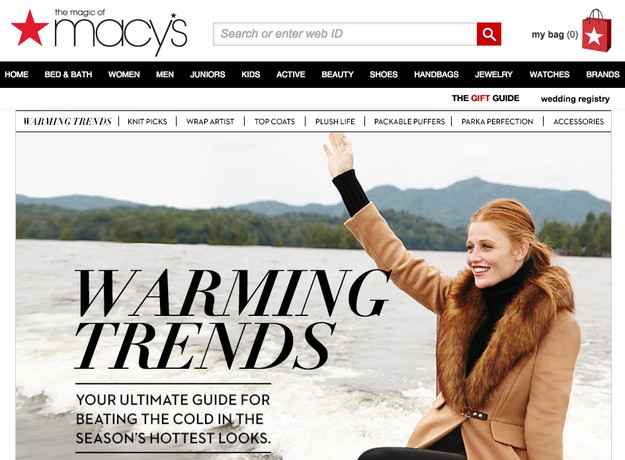 Macy's / Via macys.com
Analysts, as a result, are struggling to get a read on what's keeping customers from buying more. Take this note from Edward Yruma, an analyst at KeyBanc, after Nordstrom's earnings, for example: "We think we are either seeing the impact of one of the warmest fall selling seasons in recent history (more likely) or we are teetering on the precipice of a recession." The latter would be quite the extreme scenario.
Another analyst, Oliver Chen of Cowen & Co., wrote in a note that consumers "are distracted and don't seem to care much about apparel," spending money on "experiences" and items like electronics, while dealing with higher payments on healthcare, housing and cars.
To that end, Macy's CEO Terry Lundgren said last week that "the state of the consumer is actually reasonably okay."
Economic indicators show "there is money to spend if the consumer chooses to do so in the fourth quarter," he said on an earnings call on Wednesday. "We're just waiting now to see if, in fact, they will."
---