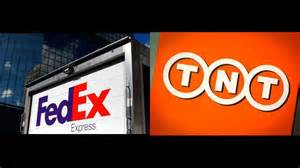 FedEx Corp. is buying TNT Express, a Dutch package delivery firm, for $4.8 billion, raising its presence in Europe. In 2013 European regulators blocked a TNT takeover by UPS over concerns the deal would stifle competition.
Fred Smith, FedEx Corp.'s Chief Executive, said "Europe, despite the fact that there has been low growth, is still an enormous market both for import and export."
TNT provides FedEx with access to pan-European service and the domestic UK and French markets, while TNT customers will now have access to FedEx's global distribution.
FedEx will pay 8 euros in cash per share for TNT a 33% premium on its closing price last week.