After last month's private payrolls scorcher, when ADP reported that a whopping 298K jobs were added, the biggest increase in 6 years on a record surge in good producing jobs, this morning ago the momentum continued when ADP reported that in March the US generated 263,000 jobs, smashing expectations of a 185,000 gain, and after a downward revision to the February number from 298K to 245K, this was the highest print since December 2014.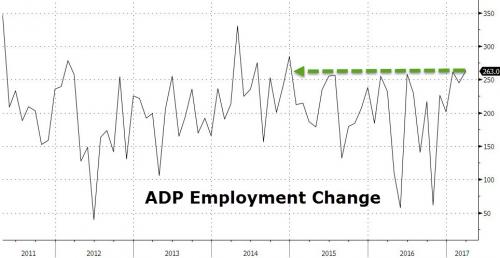 Goods producers added 82,000 while construction jobs swelled by 49,000 and manufacturing added 30,000.
Broken down by firm size:
Small firms (1-49) added 118k jobs in March
Medium firms (50-499) added 100k jobs in March
Firms with over 500 employees added 45k jobs
The details: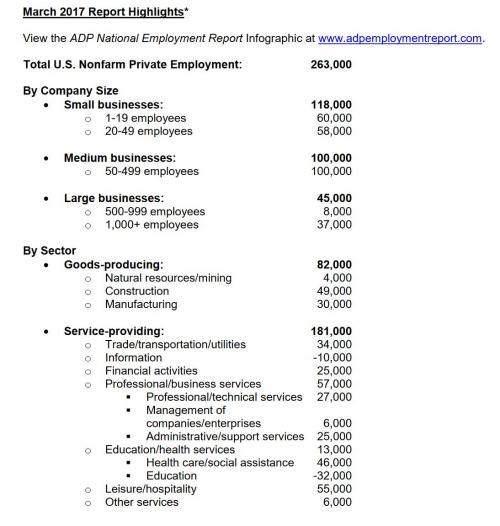 "The U.S. labor market finished the first quarter on a strong note," said Ahu Yildirmaz, vice president and co-head of the ADP Research Institute. "Consumer dependent industries including healthcare, leisure and hospitality, and trade had strong growth during the month."
Mark Zandi, chief economist of Moody's Analytics said, "Job growth is off to a strong start in 2017. The gains are broad based but most notable in the goods producing side of the economy including construction, manufacturing and mining.
Judging by the market's reaction the reflation trade may be making a comeback, with the dollar rising ahead of Friday's payrolls release which according to ADP may be another blockbuster report.
Some more visual details:
Change in Nonfarm Private Employment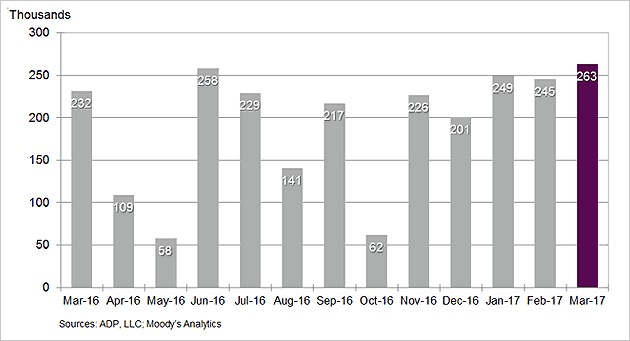 Change in Total Nonfarm Private Employment
Change in Total Nonfarm Private Employment by Company Size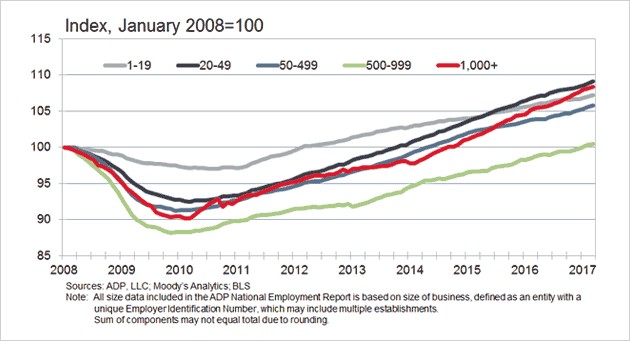 Finally, the infamous ADP infographic: