Following what has been a tremendous surge in bitcoin, which as we noted earlier had doubled from its August lows, rising as high as $420 less than an hour ago, a furious selling program was unleashed moments ago taking down the digital currency by nearly $50 on a sudden and dramatic surge in volume.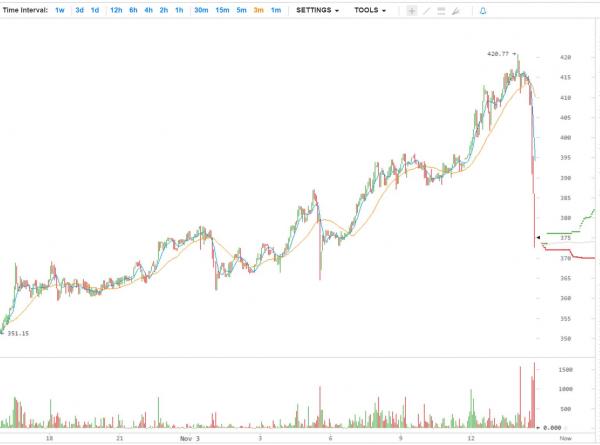 To be sure, there is nothing wrong with profit taking after such a parabolic move, however we were under the impression that the kind of furious block selling - which is intended to take out the entire bid stack and reprice an asset to a lower baseline - was reserved solely for gold, courtesy of the BIS.
It appears Virtu, or the NY Fed, may have finally noticed the dramatic surge in this alternative currency. What happens next will be up to the influx of new Chinese buyers who as we predicted two month ago when BTC was $230, have nearly doubled the value of bitcoin in two months in order to bypass China's tightened capital controls.
With this kind of volatility, we are curious how long before a new generation of traders, the same who are currently watching paint dry in equities and FX courtesy of a seemingly endless short squeeze, migrate to this asset class which suddenly is boasting the best volatility on the planet, if only for the time being.