Crude Oil trading strategy in the next few days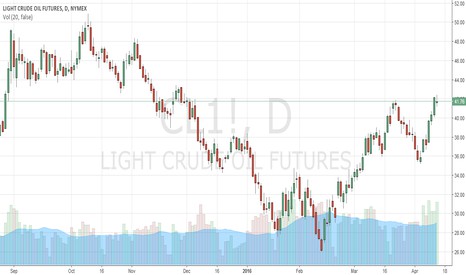 After the bottom of Crude Oil0.00%% (New York0.00%% ) at 35.22 since 5th of April 2016 started uptrend that continue after the key resistance level of 41.85. The uptrend continues almost 10-days but slowly in the last two days.
The first resistance level is at 42.40 according to World-Signals.com. If the Crude Oil0.00%% price breaks above the resistance level the trend may continue next week. In the last business day of the week there are important event for the energy sector - Baker Hughes0.00%% US Oil Rig Count. (The Baker Hughes0.00%% Rig Counts are an important business barometer for the drilling industry and its suppliers).
The date is expecting to release at 17:00 GMT and may show the end of the downward movement or slow down the trend starting from 675 in August 2015 to 354 last week.
World-Signals.com trading strategy is to trade long positions to the price of 42.40 and after the news release to open short positions. If the Crude Oil0.00%% breaks above 42.40 keep long positions.