An interesting observation is that volatility has come out of the market, as the volatility index, VIX, has shown over the past month:
(Source: Google Finance)
This is despite the fact that the Fed is issuing a review of interest rates next week (June 14-15). However, the market feels that the storm may be coming next week which means options expiring next week are expensive. Take, for example, SPY's options expiring on June 17th (look at implied volatility):

(Source: Yahoo Finance)
Currently, the annualized implied volatility for the options expiring next week is around 14%. This is significantly higher than the IV of the options expiring on Friday:

(Source: Yahoo Finance)
Assuming IV stays high through the end of the week, this difference in implied volatilities gives rise to an interesting calendar spread strategy:

(Source: optionsprofitcalculator.com)
Note: I used the bid price to calculate cash flows from the sold put and I used the ask price to calculate cash outflows for the bought put.
Essentially, we are selling the more expensive longer-tenor option and use the money to buy a short-term option to hedge against direction risk. The risk-reward ration of this trade is as follows: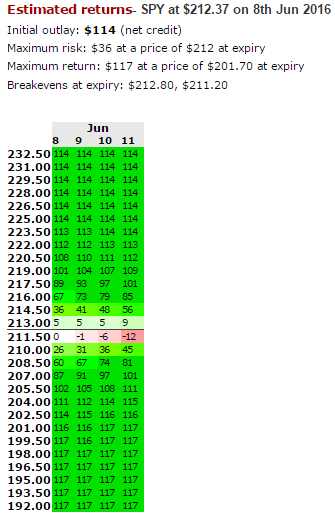 (Source: optionsprofitcalculator.com)
This is an extremely interesting trade for two reasons: the risk-reward ratio is heavily skewed towards reward (i.e. nice probability for us) and the potential return is much higher than the potential loss (the factual risk-return ratio is 3.3:1). The breakeven range is so narrow that the ETF needs to move by less than 0.5% in the next two days for the trader to make money! Just for reference, the ETF has moved by 0.85% since the start of the week. 
What do you guys think of this strategy?