Gap (GPS), has been in a v-shape reversal in the last couple of months (since mid-June). The weekly chart shows this sharp rally, which was preceded by a sharp plunge. 

GPS Weekly Chart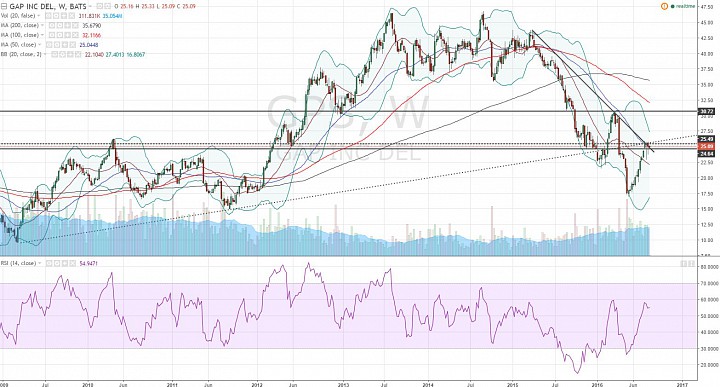 (click to enlarge)

A bearish breakout and pullback:
- On the weekly chart, we can see that GPS was bearish heading into the year, and made another downswing from mid-March to mid-May. 
- This 2-month plunge broke below a rising trendline. 
- However, price found support around 17.50, and price has pulled back the last 2 months. 
- As price trades around 25.00, let's note the key technical factors:

Key technical factors:
- There is a falling speedline going back to the highs around 43.50 from March 2015.
- Price is testing the 50-week simple moving average, not as key as the 200-week SMA, but still something to consider.
- The rising trendline that was broken is being tested as resistance.
- The 24.60-25.50 area is a support/resistance pivot area. 
- Finally, the RSI is around 60 - if the bearish momentum is to continue, the RSI should hold at or under 60. Note that last time the weekly RSI tagged 60 and price was at a previous support area. 

Price has already started to stall here around 25. Let's drop to the 4H chart:

GPS 4H Chart 8/15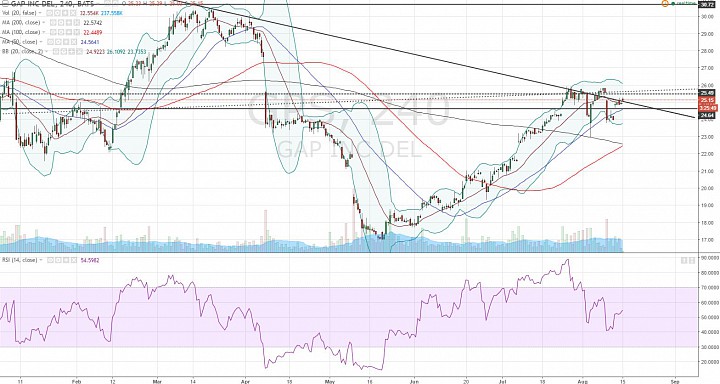 (click to enlarge)
23-26 range:
- The market is consolidating around 25 in a choppy manner.
- But if you simply focus on the range, it is between 23 and 26.
- A break above 26 would represent a bullish breakout and open up the 30 handle.
- If price falls below 23.00 we could see a slide back towards those lows in May around 17-28. 
- Also note that the RSI is around 40. If price can hold above 23, and the RSI can hold above 40, that means the prevailing bullish momentum is still in play and the pressure is on 26. 

There is no strong evidence of direction at the moment. But it is important to note that the market is consolidating at such a critical juncture. A breakout from the 23-26 area could be a strong indication of the trend in the upcoming month. The longer price stays in this range, the more likely the breakout will have a strong extension. Let's keep our eyes on GPS's price action as it consolidates around this key level (around 25) .