It can be very difficult to find companies that are both flying under the radar, and still might have potential for gains. Many times, stocks are off investors' radar screens for a reason, though there are some hidden gems that could be worth uncovering by those with a high risk tolerance.
One way to find these underappreciated stocks is by looking at companies that haven't seen their share prices move higher lately, but have observed analysts raising earnings estimates for their stock. This trend could signal that investors haven't quite embraced the rising estimate story yet, but that the potential for a big move higher is definitely there.
One such company that looks well positioned for a solid gain, but has been overlooked by investors lately, is Just Energy Group Inc. JE. This Utility - Gas Distribution stock has actually seen estimates rise over the past month for the current fiscal year by about 28.3%. But that is not yet reflected in its price, as the stock lost 1.9% over the same time frame.
Just Energy Group, Inc. Price and Consensus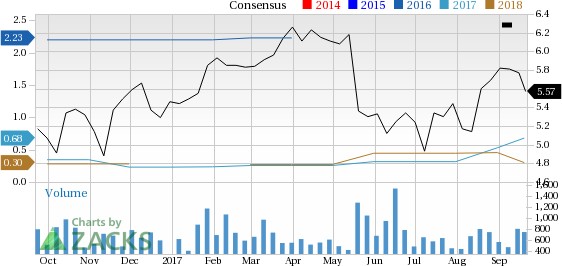 Just Energy Group, Inc. Price and Consensus | Just Energy Group, Inc. Quote
You should not be concerned about the price remaining muted going forward. This year's expected earnings growth over the prior year is 106.1%, which should ultimately translate into price appreciation.
And if this isn't enough, JE currently carries a Zacks Rank #2 (Buy) which further underscores the potential for its outperformance (See the performance of Zacks' portfolios and strategies here: About Zacks Performance).You can see the complete list of today's Zacks #1 Rank (Strong Buy) stocks here.
So if you are looking for a stock flying under-the-radar that is well-equipped to bounce down the road, make sure to consider Just Energy. Solid estimate revisions and an impressive Zacks Rank suggest that better days may be ahead for JE and that now might be an interesting buying opportunity.
Will You Make a Fortune on the Shift to Electric Cars?
Here's another stock idea to consider. Much like petroleum 150 years ago, lithium power may soon shake the world, creating millionaires and reshaping geo-politics. Soon electric vehicles (EVs) may be cheaper than gas guzzlers. Some are already reaching 265 miles on a single charge.
With battery prices plummeting and charging stations set to multiply, one company stands out as the #1 stock to buy according to Zacks research.
It's not the one you think.
Want the latest recommendations from Zacks Investment Research? Today, you can download 7 Best Stocks for the Next 30 Days.
Click to get this free report
Just Energy Group, Inc. (JE): Free Stock Analysis Report
To read this article on Zacks.com click here.
Zacks Investment Research