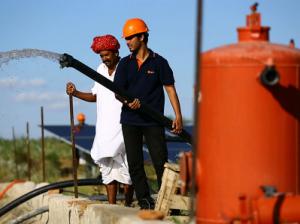 Shares of SunEdison, purveyors of solar power and two yieldcos, look like this.
Over the past two months investors have begun scrutinizing SunEdison and its two associated yieldcos - companies formed to own and operate its energy projects - with some voicing concerns over the sustainability of their respective financing arrangements. Those worries are emblematic of a wider problem for firms that have relied on eager capital markets to help finance their stunning growth in recent years.
As the tidal wave of yield-hungry bond investors and lenders washes away, capital-intensive companies from M&A-addicted pharma giants to shale gas explorers to solar power specialists, find themselves facing tougher questions about their financing.
More from Bloomberg.com: Hollande Calls for United Anti-Terror Front as Police Crack Down
Worries about SunEdison exploded into the limelight last month, after CreditSights...
More