In part 3 of my series of interesting charts regarding QE, the Fed, and the US bond market (part 1 and part 2 here), here is a chart that compares the 10-year yield since 2001 and the amount of Treasury holdings by foreigners.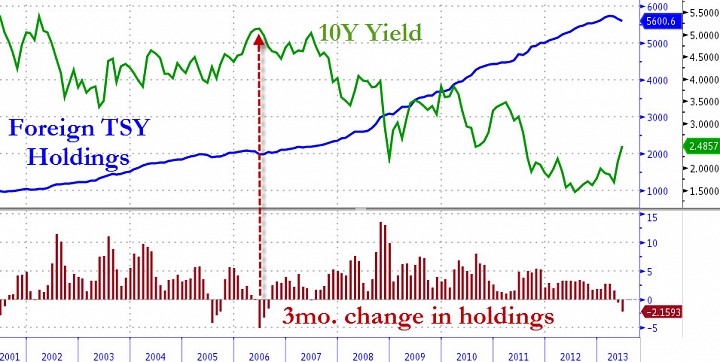 Courtesy of ZeroHedge

The key takeaway here is that US bonds have been a one-way bet for most of the past 12 years (and really its been a secular bull market for about 30 years now in US bonds). And the appetite for US debt has been pretty steady from foreign buyers - we should know by know that most of this has been buying by China, but other central banks like Japan, the UK, and commodity producers like Russia and oil-producing states, play their parts.
However, this year, we have seen the insatiable appetite for US bonds has been satiated a bit (and explains why the Fed has been so busy buying). The dip in interest/demand has seen a pullback in foreign holdings and that has corresponded to a rise in yields.
What's the implication here? Well, the scary one is that places like China, Russia, Japan, and others may have tired of US debt - which would mean that yields are heading higher in order for supply and demand to find a new equilibrium.
The second one is this. If this is an emerging theme and not just a blip on the long-term trend here, then despite rising yields, maybe there isn't going to be a mass flood towards US debt just because yields are a bit higher - and the anticipated USD strength that will come from the Fed slowing their bond purchases may not materialize as some expect.
That's not my call at the moment, but it certainly has me thinking out loud, and questioning the conventional wisdom at the moment that tapering leads to higher US yields which means an influx of foreign buyers of US bonds which in turn boosts the USD. Food for thought.
- Nick