Elon Musk's dream of sending a spacecraft to Mars by 2018 seems a little crazy. But his goal to have Tesla (TSLA - Get Report) making 500,000 vehicles in 2018 and one million a year in 2020 may be even crazier.
Despite increasing demand for eco-friendly cars, and Musk's remarkably innovative company, what appear to be unreasonably high expectations suggest that senior management is not being realistic. Tesla is well below those numbers now and faces a number of challenges for amping up production.
Investors suspected as much. Shares fell more than 5% Thursday.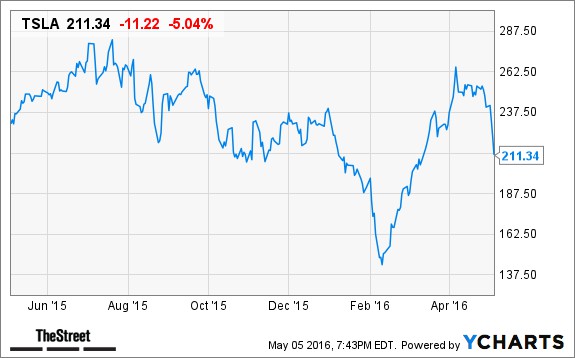 Musk's goals raise questions about his leadership and are part of the reason that the company is a dangerous stock.
Tesla reported earnings on Wednesday and Elon Musk announced the new production goals. Previously, Musk's goal was to make 500,000 cars a year in 2020, but he told analysts and investors on the company conference call of his upward revision.
Must Read: Jim Cramer's 'Mad Money' Recap: What to Expect After the Jobs Report
So why is this goal so crazy?
This past quarter the company pledged to deliver 16,000...
More