Earlier in the week, we saw the AUD/NZD forming a double top: Potential double top spotted on AUD/NZD
AUD/NZD 1H Chart 8/11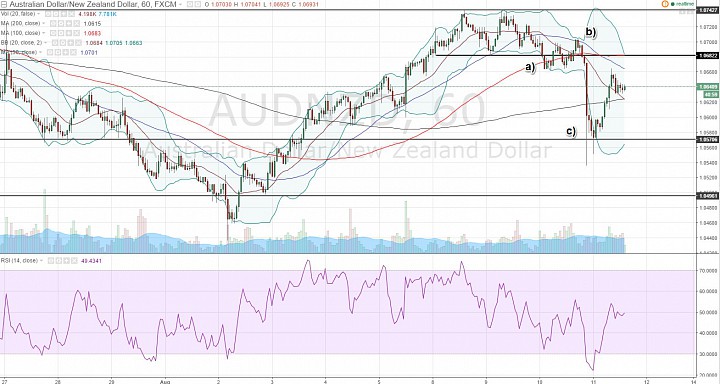 (click to enlarge)

The abcs of a double top:
- first of all, the fact that price failed to break above 1.0742 was the warning of a double top.
a) Then a break below the 1.0682 "neckline" completed the double top. 
b) Price held above 1.0660 and pulled back up into the double top area. The market respected the 1.07 handle, and the 50-hour simple moving average (SMA). The most important part of this is that price held under the middle of the range (1.0682-1.0742) - which confirms the double top as a top. 
c) Price fell sharply and reached our first target described in the previous AUD/NZD update. 
One more swing?
- Price has hit our first target of 1.0570 and then rebounded sharply. 
- The rebound is again testing the price top. It is stalling around 1.0660 which was a previous support pivot. 
- If price can hold below 1.0660, the downside risk is still alive with 1.05 as the next target.
- If price climbs back above 1.0685, I would be cautious about the bearish outlook. If this happens, I might even bring up my target to 1.06, in case the bears are exhausted already in this choppy market. Indeed, the fact that price rebounded so sharply should cause some unease for the bearish outlook.