It is day two of the massive rally of Aquinox Pharmaceuticals Inc. (NASDAQ: AQXP), and the stock is continuing to push higher. On Friday, over 62 million shares moved on the day and shares closed up 582% at $10.42. At this point, many would consider this is a day trader's or active trader's dream stock.
What prompted the initial move Friday was that the company announced results from its Phase 2 Leadership trial with AQX-1125 in patients with bladder pain syndrome/interstitial cystitis. Aquinox also provided a general business update and reported financial results for the second quarter, ending June 30, 2015.
The company had cash, cash equivalents and investments totaling $29.0 million at the end of the second quarter, compared to $41.1 million at the end of December 2014. At the same time, the net loss was $4.8 million, compared to a net loss of $5.4 million for the second quarter of 2014. This decline in net loss reflected the decrease in research and development expenses.
Aquinox reported top line results from its Leadership trial on June 25, 2015, that did not reach statistical significance in its primary endpoint. However, the results demonstrated an encouraging trend in pain reduction for patients treated with AQX-1125 as compared to the placebo.
ALSO READ: 4 Top Jefferies Growth Stocks to Buy Now
Separately the company now anticipates top line data for AQX-1125 in the Kinship trial earlier than previously guided, now expected in the fourth quarter 2015.
However, in a recent SEC filing, a firm has stepped forth and announced nearly a 40% stake in Aquinox. Baker Bros. Advisors announced ownership of about 4.27 million shares, which totals an impressive 39.8% ownership. Aquinox had a total of roughly 10.73 million shares of common stock outstanding as of August 5, 2015. At current prices this stake would be valued at $178 million.
Baker Brothers described the purpose of the transaction as:
The Funds hold securities of the Issuer for passive investment purposes. The Reporting Persons or their affiliates have had and may continue to have discussions with management of the Issuer regarding financing. The Reporting Persons may acquire additional securities of the Issuer, including shares of common stock, in such financings or by means of open market purchases, privately negotiated purchases, or otherwise. The Reporting Persons or their affiliates may purchase additional securities or dispose of securities in varying amounts and at varying times depending upon the Reporting Persons' continuing assessments of pertinent factors, including the availability of shares of common stock or other securities for purchase at particular price levels, the business prospects of the Issuer, other business investment opportunities, economic conditions, stock market conditions, money market conditions, the attitudes and actions of the board of directors and management of the Issuer, the availability and nature of opportunities to dispose of shares in the Issuer and other plans and requirements of the particular entities. Depending upon their assessments of the above factors, the Reporting Persons or their affiliates may change their present intentions as stated above.
Shares of Aquinox were up about 357% at $41.69 on Monday morning. The stock has a consensus analyst price target of $5.00 and a 52-week trading range of $1.38 to $37.09. Some 9.5 million shares had moved as of 10:50 a.m. Eastern. Below shows the actual transactions made by Baker, and those prices will be VWA (volume-weighted average price) transactions.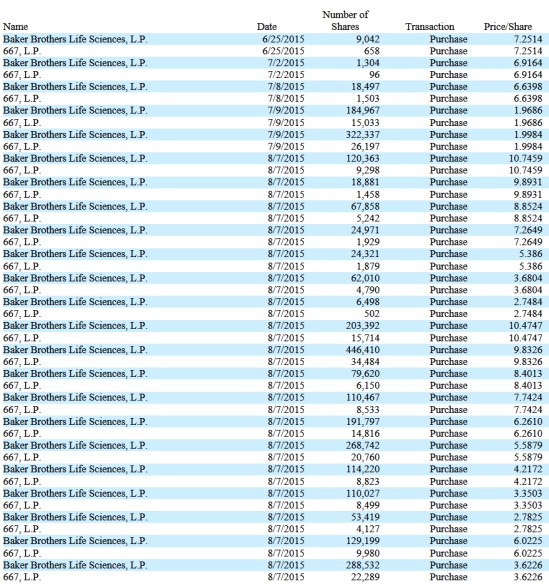 ALSO READ: 6 Analyst Stock Picks Called to Rise 50% to 100%
By Chris Lange
More