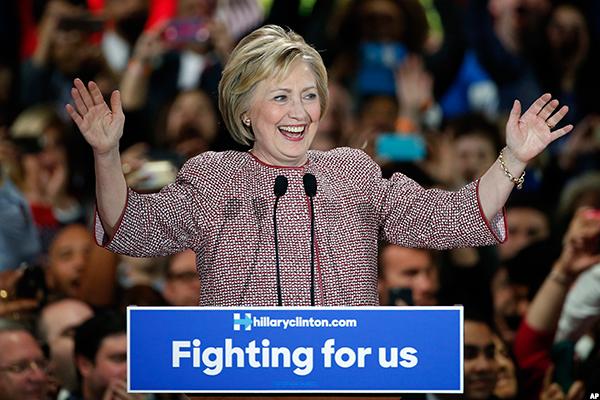 Editors' pick: Originally published May 12, 2016.
UPDATE: This story's stock charts have been updated. When you're done reading this, check out which stocks to buy for when Donald Trump is president.
Hillary Clinton has promised to be tough on Wall Street once she's in the White House, but that doesn't necessarily mean investors should be running for the hills. The former secretary of state's positions and policies might mean good things for certain stocks and sectors.
Wall Street appears to already be bracing for a Clinton presidency and at times reacting to her proposals in turn. The prediction markets and recent surveys indicate she is widely viewed by investors as this election season's likely victor. And even though the markets may not like some of policies she has promised to implement on the campaign trail, they do enjoy the certainty she represents, especially compared to presumptive Republican nominee Donald Trump.
"Trump is an unknown, and the markets hate uncertainty," said Greg Valliere, chief strategist at Horizon Investments. "With Hillary, it's pretty much what you see is what you're going to get."
Clinton's 25 years in the public arena as first lady, senator and secretary of state give investors a clear idea of who she is and how she is likely to approach policy if elected president. This election season, she has hitched her wagon firmly to the Obama administration's legacy, indicating to many her first term in office might look quite similar to the past seven years.
"If you just look at everything that her campaign has laid out on the table, it's hard to see too many dramatic or significant divergences from what we might have seen in Obama's third term," said Height Securities analyst Peter Cohn. "If you look at the way sectors have performed over the last four years or so, that's probably a pretty good proxy for the next four years."
To be sure, not everything about Clinton would look like Obama part three. She has historically been more hawkish on defense policy than President Obama. This election season has also seen her pulled farther to the left by Democratic competitor Bernie Sanders on issues like trade, fracking and the minimum wage. And, she has promised to crack down on inflated drug pricing.
There are also outside factors that would be far beyond Clinton's control as president. There are no guarantees she would be able to get her proposals through Congress. Moreover, global developments, such as oil prices and war, could certainly change the game.
Still, there are some stocks and sectors poised to do well with Clinton in the White House. If she is sworn in on January 20, 2017, here are seven stocks you may want to consider for your portfolio.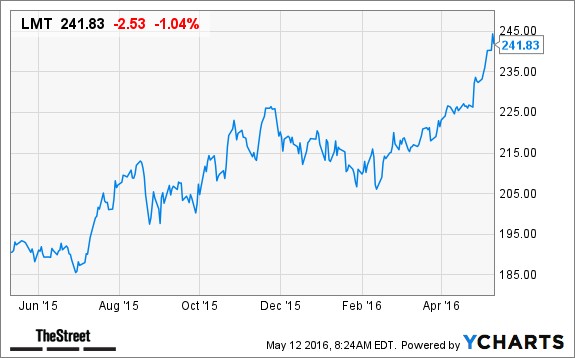 1. Lockheed Martin (LMT)
Lockheed Martin was the biggest government contractor of 2015, raking in $36.2 billion, including $29.4 billion from the Department of Defense. Should Clinton take office and continue policies that are at least as hawkish as the current administration, there is little reason to believe Lockheed's position will change.
Clinton, who not only served as secretary state but is also a former member of the Senate Armed Services Committee, is an advocate of what RBC Capital Markets analysts described as smart power, "mixing diplomatic, economic and cultural leverage with military strength," in an April note. They said that if she or, for that matter, Trump becomes president in 2017, there is good reason to remain bullish on the defense sector.
"Given the current geopolitical threat situation and the improved fiscal situation of the U.S. government, we think both the new president and the current Congress will be inclined to spend more rather than less on defense going forward," they wrote.
On her campaign website, Clinton promises to "keep America safe and secure by defending our core values and leading with principle," including standing up to Russian President Vladimir Putin, strengthening alliances in the Middle East, Europe and Asia and ensuring the U.S. military is on the cutting edge. Her camp touts her history as secretary of state as well, including her role in imposing sanctions on Iran and in launching the raid against Osama bin Laden.
Defense spending is one area Clinton and Congress will likely find common ground, said Cohn, whether the U.S. stays on the current trajectory or conflict breaks out that necessitates intervention. "You're sort of looking at a few years of flat or slightly increased investment on the defense side," he said.
That will certainly bode well for Lockheed Martin as well as other big getters of government defense contracts, including Boeing, Raytheon and General Dynamics. The four represented $68.2 billion in...
More