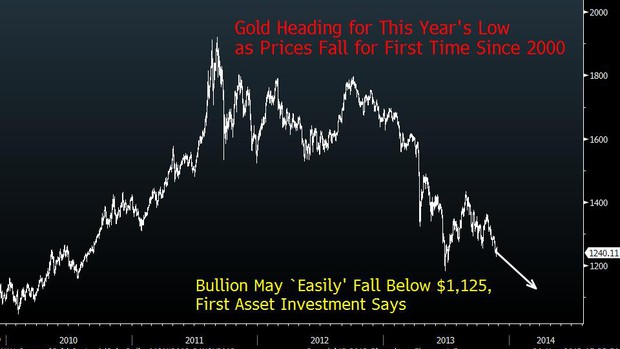 Gold, heading for the first annual drop since 2000, is approaching its lowest price this year as the Federal Reserve signals it may ease stimulus because of a strengthening economy.

The CHART OF THE DAY shows gold is trading 5.6 percent above a 34-month low of $1,180.50 an ounce set on June 28. UBS AG cut its one-month target to $1,180 yesterday and prices may "easily" fall below $1,125 by the end of December, said John Stephenson at First Asset Investment Management Inc.
More info here:
http://www.bloomberg.com/news/2013-11-26/gold-heading-for-2013-low-as-haven-demand-ebbs-chart-of-the-day.html
Do you agree with this forecast?