By Shira Gonen 
Wall Street analysts provide earnings previews as well as near-term and long-term challenges and catalysts for social media leader Facebook Inc (NASDAQ:FB), online payment giant Paypal Holdings Inc(NASDAQ:PYPL), and energy panel maker First Solar Inc (NASDAQ:FLSR), as all set to report earnings this evening. Let's take a closer look.
Facebook Inc
Analyst Ronald Josey of JMP Securities weighed in on Facebook prior to its 1Q:16 earnings, set to release today after market close. The analyst provides revenue, EPS, and MAU estimates for the quarter of $5.32 billion, $0.64, and 1.63 billion, respectively, and believes earnings will reflect advertising success from the past quarter. He states,  "We expect Facebook to report 1Q16 results that are in line to above our and consensus expectations given continued strong advertising demand in 1Q16 across core Facebook and Instagram (IG), as Facebook surpassed 3+ million active advertisers in the quarter."
The analyst states several factors he will be watching for in this report. First, he expects the company to display 58% y/y advertising revenue growth, supported by his firm's checks which "suggest continued strong adoption of newer ad formats." Second, the analyst will be looking for Instagram monetization numbers. He notes that the IG exceeded 200K advertisers in February alone and predicts $371 million in Instagram ad revenue, marking a 4.1% q/q increase and 7.2% of all the company's ad revenue. Josey expects to see an increase in engagement numbers for FB, predicting a 15% y/y increase in daily average users and a 24% increase in mobile DAUs. The analyst also looks forward to "early video engagement results from the launch of FB Live video and the corresponding video hub to improve video discoverability."
The analyst predicts various catalysts for the company, pointing to recent success and future opportunities. He states, "Facebook remains our top pick across the Internet sector with multiple catalysts in the near term, and we point to newer ad products, such as Carousel Ads, DPAs, Canvas ads, Video, and Instagram monetization and longer term catalysts around Messenger, Oculus, and WhatsApp."
The analyst reiterates a Market Outperform rating to the company with a $140 price target. According toTipRanks, 95% of analysts who have rated the company in the past 3 months gave a Buy rating, while 5% remain on the sidelines. The average 12-month price target for the stock is $137.21, marking 26% upside from where shares last closed.
Paypal Holdings Inc 
Analyst Robert Napoli of William Blair commented on Paypal prior to its Q1:16 results, set for today after market close, and its upcoming analyst day. For this quarter, the analyst projects revenues of $2.49 billion, marking 17% growth, and EPS of $0.34, also marking 17% growth. Additionally, analyst expects to see an increase of 3 million active users and 20% transaction growth. The analyst is positive on the company's metrics thus far, stating, "We continue to believe PayPal's 179 million active accounts, 13 million merchants, and $12 billion of funds receivable (essentially consumer deposits) are testament to consumers' trust of PayPal and the value PayPal brings to the payments industry." As such, the analyst is confident that management "will meet or beat its long term growth targets" and believes increasing customer usage "remains one of the largest opportunities for Paypal."
The analyst also looks forward to the company's investor day, set for May 18, where he will be watching for various updates on opportunities, competitive positioning, its lending business, efficiencies, and strategies to increase usage per account. The analyst then provides favorable global e-commerce data which supports Paypal's positioning and presents long-term opportunities despite competition. He explains, "We remain attracted to PayPal's well-entrenched market position and its exposure to strong secular tailwinds (e-commerce and shift to electronic forms of payment); while competition is increasing, we believe the market can support multiple players."
The analyst reiterates an Outperform rating on the company without a price target. According to TipRanks,Robert Napoli has a 56% success rate recommending stock with an average return of 4.9% per recommendation.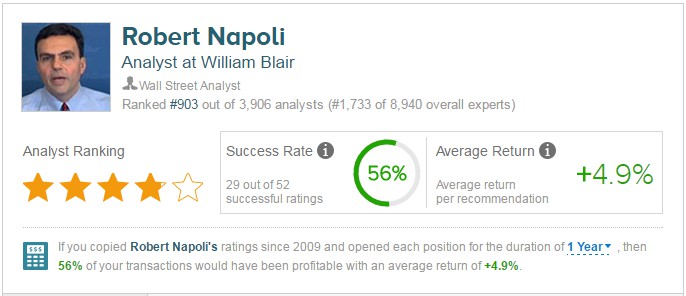 According to TipRanks, out of all the analysts who have rated PYPL in the last 3 months, 58% gave Buy rating, 5% gave a Sell rating, and 37% remain on the sidelines. The average 12-month price target for the stock is $42.05, marking a 6% upside from where shares last closed.
First Solar, Inc.
Deutsche Bank analyst Vishal Shah provided his expectations on First Solar's earning as well as a future outlook and various catalysts for the company through until 2020. The analyst comments on various factors which he believes will impact both short and long-term earnings for the company.
First, he notes that "FSLR management has done a good job in maintaining a healthy backlog" this year, with a "strong mix of legacy systems shipments" and strong margins. Of the 3GW backlog set for delivery between 2017 and 2020, "2GW is systems and 1GWis module sales." The analyst believes this could impact the company short term, as most of the company's recent bookings have consisted of module sales towards 2018-2019. The analyst also comments on the company's PPA in systems business, which is "lower than some of the legacy projects where PPAs were in the 10-12/kwh range." The analyst explains, "For most projects in the U.S., FSLR is signing PPAs in the 5-7c/kWh range. As such, inherent profitability of current systems bookings/backlog is much lower than profitability of some of the legacy projects."
While modules represent a small percentage of short-term bookings, the analyst has a more positive view long-term, predicting 17GW of modules shipped from 2017-2020. He notes this view is consistent with company booking guidance of 80% modules and 20% system sales.
Shah also goes into detail regarding the company's recent analyst day, where FSLR provided some clues for its Q1 report. The company stated that "14% of Stateline project sold in 1Q will flow through the income statement", which will increase revenue and margins. The analyst also indicated a more balanced year. He explains "The earnings would be split 50:50 in 1H:2H vs previous guidance of 60:40." However, FY company EPS guidance remains at $4.00-$4.50. As a result, the analyst expects "very little surprise" during the earnings call and provides slightly higher than consensus revenue and eps estimates for the quarter of $1.04 billion and $1.10, respectively, compared to consensus estimates of $952 million and $0.89, respectively. The analyst will be watching for updates on backlog and existing projects, "progress on the technology front", and updates on international opportunities.
The analyst notes that a "near term overhang" related to 2017 consensus estimates will not have a long-term impact on shares and should be on track for growth by 2018. The analyst expresses a positive view on the company's overall positioning and financials. He explains, "We continue to see FSLR as a relative safe haven in the cleantech sector given its strong balance sheet and robust near term earnings outlook supported by strong order book and solid execution on the technology front."
The analyst reiterates a Buy rating on the stock and decreases his price target to $80 from $86. According toTipRanks, out of all the analysts who have rated FSLR in the last 3 months, 38% gave a Buy rating while 62% remain on the sidelines. The average 12-month price target for the stock is $74.18, marking a 21% upside from where shares last closed.