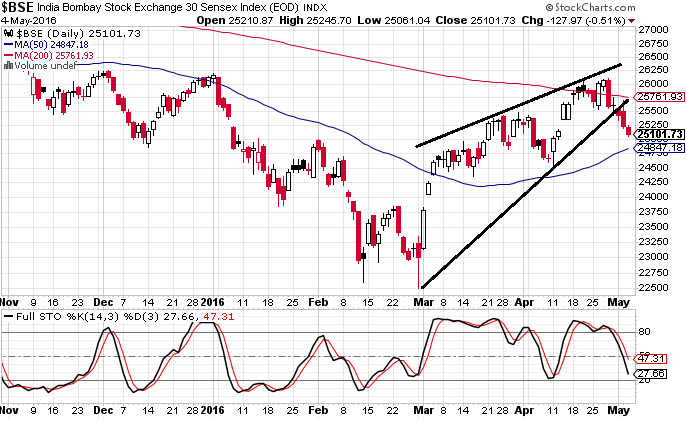 On Thursday, May 5, India's equity indexes closed higher as pharmaceutical and industrial companies headed north.
Also, yesterday data on the Indian services PMI were released during the second half of the session. The reading came in at 53.7 in April compared to 54.3 in March.
The Nifty 50 ticked up 0.38% to 7,735.5, while the BSE Sensex 30 climbed 0.64% to 25,262.21.
On the Nifty 50, IdeaCellular,Adani, andUltraTech underperformed the broader market, each losing over 2%. Housing Development Finance, Tech Mahindra, and Bharat Heavy Electricals led the advancers, each gaining over 2.5%.
On the BSE Sensex 30, BhartiAirtel and Hindalco Industries were out of luck, while Housing Development Finance, and Bharat Heavy Electricals topped the outperformers.
On the currency market, USD/INR shed 0.07% to 66.57, while EUR/INR dipped 0.69% to 76.036. The 10-yearbondyieldstood at 7.429%.
India's largest mortgage lender Housing Development Finance rose 2.9%. According to sources familiar with the matter, the company is looking to take its insurance unit public.
India's leading manufacturer of power plant equipment Bharat Heavy Electricals added 2.51% after plunging in the previous two months.
India's largest pharmaceutical company by market capitalization Sun Pharmaceutical Industries traded higher for the second consecutive session due to successful trials of its new drug.
V-GuardIndustries rocketed 20% after reporting its net profit for the quarter ended March 31 stood at Rs 41.97 crore, ahead of expectations.
Orient Cement was 2.52% higher after its revenue increased 13.9% to Rs 449.29 crore.
Technically, a falling trend has almost taken shape on the chart. Stochastic lines are pointing south, but will soon reach oversold territory, which means there is limited downside potential.