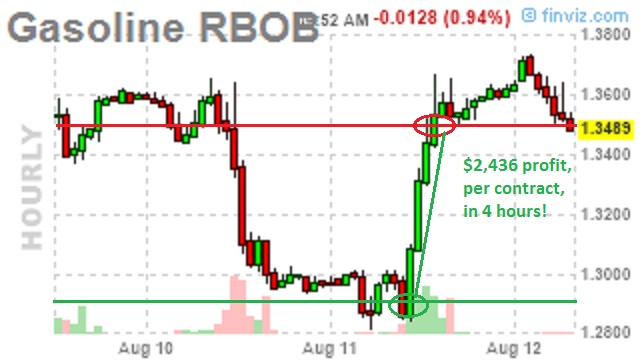 What a week we are having!  
We don't make public pick in July (earnings months) but we came back strong for the free readers in August and yesterday's long trade idea on Gasoline Futures (/RB) made $2,436 as /RB hit our goal at $1.35 and Natural Gas (/NG) is still at $2.57, so $0 there – for now.  Add that to Wednesday's $3,600 gain on our Futures picks (per contract!) and that's over $5,000 profit in two days just from our morning PSW Report (sign up here so you don't miss them).  
We also had a set-up yesterday morning for a long play on Kate Spade (KATE) and, even if you didn't play the options, you had to be pleased with the 8% gain for the day on the underlying stock.  Someone in chat asked me why we don't have a lot of "short-term" trades and I pointed out that our long-term trades make great money in the short run AND they are much safer, as they have time to mature.  Kate is a good example as our trade idea was:
Sell 10 KATE 2018 $15 puts for $2.50 ($2,500)
Buy 10 KATE 2018 $15 calls for $5 ($5,000) 
Sell 10 KATE 2018 $20 calls for $2.95 ($2,950)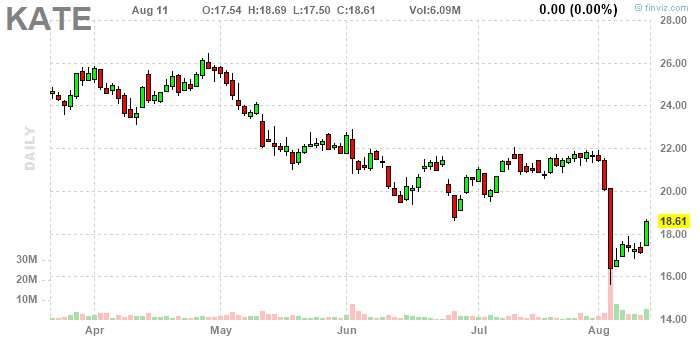 The $15 puts opened at $2.45, the $15 calls opened at $5.10 and the $20 calls opened at $3.10 so the net was the same $450 credit we planned and, at the end of the day, the $15 puts fell to $2.10, the $15 calls are now $5.90 and the $20 calls are $3.37 for net $430 on the spread so we're could close this spread right now for an $880 profit (as we started with a credit), which is up 100% in a day!  
So, make 8% on the stock using $17.50 in cash to make $1 (so $17,500 to make $1,000) or use options and get a $450 credit with no cash out of pocket and make $880?  This is why we like options – well, one of 100 reasons we like them…
And that was a very conservative play.  We only need KATE to hold over $15 (down 15%) and we make our full 1,211% expected return on cash, so this is just a bonus and making 100% on our first day is good – but about what we expected to make in our first month.  This is why the answer to "do you guys trade ordinary stocks" is generally – no.  It's no because we KNOW a better way.  It's like asking a person with a motorcycle if they still ride a tricycle – the answer is "no" and it's no because they've moved on to something better so, rather than look for a toddler to ride with – perhaps you too should consider learning a better way to trade?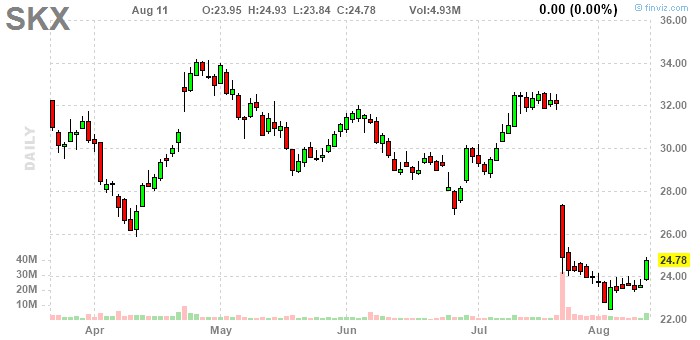 Yesterday, for our Members, we found two other nice, long-term trade ideas as we're in a very, very slow capitulation process on our bearish stance so we're bargain-hunting off the earnings reports.  I can tell you that one of our Top Trade Ideas last week was SKX and there we simply took advantage of the earnings dip to sell 10 of the 2018 $25 puts for $5.10 ($5,100) in our Long-Term Portfolio.  That gives us a net entry into the stock at less than $20 so, again, a nice, conservative, well-hedged position and already they are down to $4.80 for a $300 gain – simply on track for our $5,100 expected gain in 16 months, which is better than a 100% return against ordinary margin and, of course, it's still good as a new trade.
We remain overall bearish in our portfolios as we still expect a correction and we're still playing the S&P (/ES) short below 2,180 along with 4,800 on the Nasdaq (/NQ) but it's 16,900 this morning on the Nikkei (/NKD) with the Russell at 1,227.50 (/TF) and the Dow at 18,575 (/YM) so, as we did Wednesday morning – let's make sure 3 of 5 cross under and then short the laggards with tight stops.  
The SQQQ play is still a great overall hedge and you can pair it with the SKX longs instead of GILD, if you prefer sneakers to drugs for the long haul.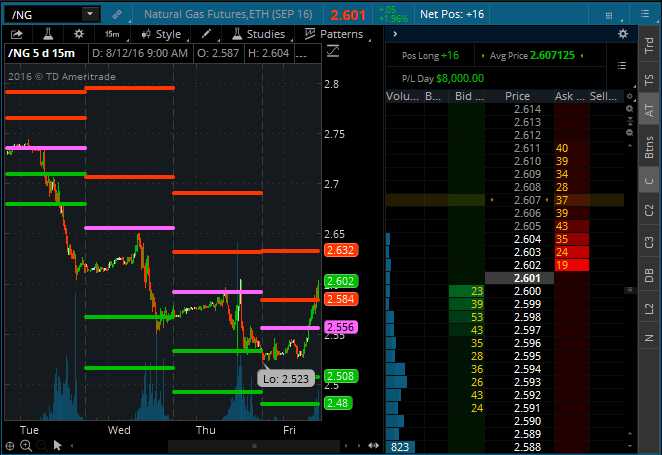 Both Retail Sales (flat vs 0.4% expected by economorons) and Producer Prices (down 0.4% vs +0.1% expected) and, if those reports weren't sending the Dollar back down to 95 (down 0.75%), the indexes would be flying down already which, fortunately, is great for our long play on /NG (finally) and we'll take the money and run at $2.60 (up $8,000 for the day – you're welcome)!  
Earlier this morning we looked at Chinese data that was also disappointing and we have no reason to think Europe will be any different and, while investors have been happily ignoring all the bad news and the market has taken it as an excuse to go higher and higher on expectations of MORE FREE MONEY – a rational person might point out that all the free money in the World hasn't helped so far, has it?
Gold help us all if rational people come back from their Summer vacations and start selling!  
Have a nice weekend, 
- Phil
Provided courtesy of Phil's Stock World.
Would you like to read up-to-date articles on the day they are posted? Click here to become a part of our growing community and learn how to stop gambling with your investments. We will teach you to BE THE HOUSE - Not the Gambler!