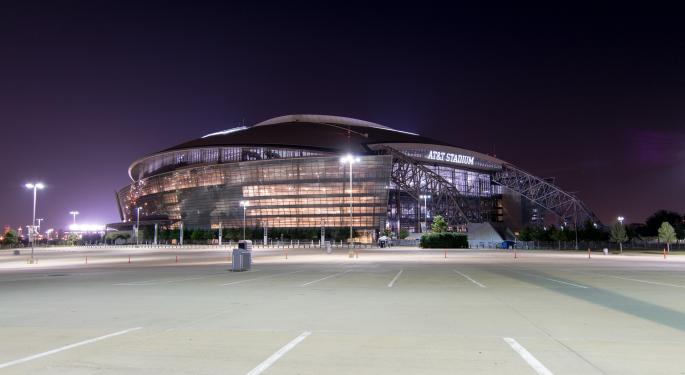 The National Football League is motored by its superstar players, most of whom are endorsed by big name athletic brands. With so much popularity in the United States - an average of 20.25 million TV viewers per game - can the NFL's top players actually move stocks?
Here are three athletic brands and their top NFL players to watch as we get into the 2016 football season.
Cam Newton, Carolina Panthers Quarterback
Many may think Steph Curry is Under Armour's most successful athlete, but that throne is reserved for Newton. Newton won the NFL's Most Valuable Player award last season, a testament to his dominant play in taking his team to the Super Bowl.
National Exposure
The Panthers will play five primetime games this year, which will increase Newton's exposure to a national audience. Athlon Sports predicted the Panthers to win their division and go far in the NFL playoffs, so Newton will have more chances to show off his talent to large audiences.
Bottom Line
Newton is worth 15 percent more than Curry, and his Cam Newton Collection is one of Under Armour's centerpiece product lines. The UA C1N MC cleat currently selling for $159.99 and racking up the money for both Under Armour and Newton.
Todd Gurley, Los Angeles Rams Running Back
Gurley was the most electrifying rookie of the 2015 NFL season, with 1,106 yards and 10 touchdowns to his credit. It's too early to say he has made a major impact on Nike or its brand, especially since the company sponsors so many young athletes. That said, Gurley may be the player to take the company's football brand to the next level.
National Exposure
The running back has also been getting an incredible amount of exposure over the summer and will continue to draw more as we enter fall. The Rams, are playing their first season back in the Los Angeles since 1994. HBO's Hard Knocks has followed the team over the summer, which adds the running back's exposure. Along with that, the Rams play three primetime games in 2016 and a majority of games during the 4:25 p.m. slotted nationally televised games.
Bottom Line
NFL Shop reported Gurley leads all 2015 NFL rookies in Nike Jersey sales, and if he keeps up his dominant play, we may see personalized products geared towards the running back. In fact, his Nike cleats and jersey have already made it into a display case in the Pro Football Hall of Fame.
DeAndre Hopkins, Houston Texans Receiver
Hopkins had a breakout season in 2015, and nearly all experts and pundits believe the three-year star is poised to continue his dominance in 2016. He caught 11 touchdown passes and notched up 1,521 receiving yards with multiple quarterbacks that have served as backups throughout their careers. Now that Hopkins is working with the more stable and Brock Osweiler, the hope is that he will take off and start approaching records.
National Exposure
The Houston Texans will appear in five nationally televised primetime games, and Hopkins has been the center of attention on many Fantasy Football programs and websites.
Bottom Line
Hopkins signed with Adidas in May, and the company has announced plans for the receiver to brand himself with the Adizero Lightweight Cleat, one of the company's most successful equipment products. The company has also disclosed advertisement plans for him in the future.
© 2016 Benzinga.com. Benzinga does not provide investment advice. All rights reserved.