Chipotle Mexican Grill (CMG) released earnings after the close of the 4/25 session. According to investorplace.com, " Chipotle Mexican Grill, Inc. (NYSE:CMG) reported first-quarter earnings of $1.60 per share, notably higher than analysts' expectations for $1.27. Revenues beat expectations, too, growing 28.1% year-over-year to $1.07 billion. Comp-store sales were up 17.8%. These results helped fuel the 2017 rally, but Chipotle shares only saw an ephemeral push above $500 in the after-hours session."

The article also noted a payment system breach that has tainted the otherwise great earnings report, "Those gains evaporated after management disclosed a payment systems breach on its conference call. While the investigation remains ongoing, investors don't appreciate the uncertainty." (investorplace.com)

I think CMG is close to completing its bullish correction swing, and while the earnings report was great, we should expect some consolidation around 500.00. 

Previous Update: Chipotle (CMG) - Bullish Swing Takes a Break Ahead of Earnings

Chipotle Mexican Grill (CMG) Daily Chart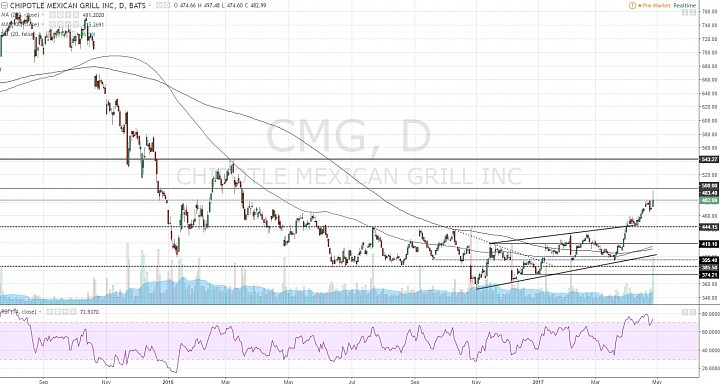 (click to enlarge)

Bulls in Charge:
- The reaction to the earnings report was a strong one, accompanied by strong volume. 
- The fact that price broke above a bearish engulfing candle from earlier in the week suggests that bulls are still in charge.
- Finally, even though the RSI is above 70 (in overbought territory), it has not shown a slowdown in momentum. A bearish divergence for example would imply a slowing in the bullish momentum.
500 Resistance:
- Because the market still looks bullish, I think CMG is poised to extend to 500 and possible beyond it in the short-term, ie. towards 515.
- However, if we start seeing bearish divergence with the RSI as price pushes through 500, we should start to anticipate consolidation.
- I would not be surprised if price become choppy around 500.