Analysts were expecting boost from tighter used car supply
CEO De Shon cites 'massive devastation' caused by three storms
Avis Budget Group Inc. lowered the high end of its forecasts for full-year profit and sales, citing the hurricanes that some analysts thought would help rather than hurt business.
Full-year earnings will be as much as $2.65 per share on revenue of up to $8.9 billion, the rental-car company said Monday. Both projections were lower than what Avis Budget projected three months ago, sending the shares plunging 11 percent in late trading.
Hurricanes Harvey, Irma and Maria disrupted business and damaged property in the third quarter, lowering revenue and profit. Some analysts were expecting the storms would benefit Avis and its rival Hertz Global Holdings Inc. by tightening supply of used vehicles and boosting prices. Both companies have been struggling to protect the rates they charge at rental counters because of bloated fleets and challenges to their business models posed by the rise of ride-hailing.
Read more: Hertz's 101-Year-Old Business Nearing Twilight in Uber Age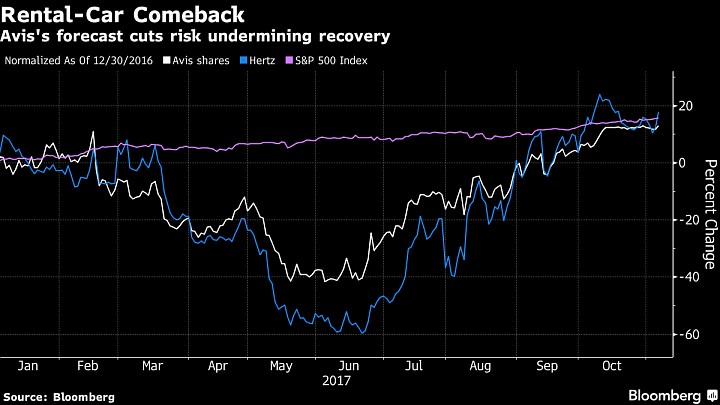 The storms lowered Avis's adjusted earnings before interest, taxes, depreciation and amortization by $15 million during the quarter. Chief Executive Officer Larry De Shon said the hurricanes caused "massive devastation" that required the company to move vehicles to the affected areas in Texas, Florida and Puerto Rico.
"You lose volume when you move cars and you don't make that up," Chris Agnew, an analyst with MKM Holdings LLC, said by phone. "People underestimated the costs the storms would have on the business and overestimated the benefits."
Avis said revenue was a record $2.75 billion in the quarter that ended in September. Earnings per share rose to $3.10, beating analyst estimates. De Shon said the company saw better pricing and utilization in the quarter.
Hertz shares also slumped, falling 6.3 percent to $25.39 as of 5:59 p.m. in New York. The company scheduled the release of its third quarter earnings for Thursday.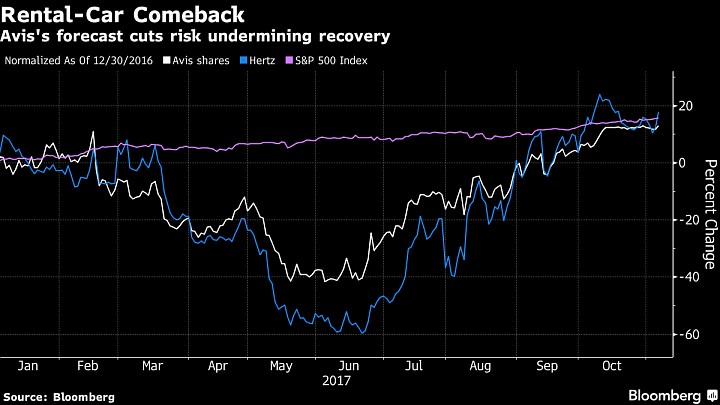 More