The Hershey Company HSY is slated to report third-quarter 2017 results on Oct 26, before the opening bell.

Changes in consumer preference and consumer dynamics, demographic shifts, and also a spending shift toward lower-priced products have been a dampener for Hershey's sales since 2014.

Nevertheless, Hershey regularly innovates its core brands to meet consumer demand and needs that are not addressed by its current portfolio. The company's initiatives have been bearing fruit of late, with net sales increasing 2.2% year over year in the first half. The company experienced sales growth for the fifth straight quarter after a few quarters of no growth. However, the company had earlier stated that owing to the timing of some second-quarter shipments, Hershey's second half net sales are likely to be same as the year ago.

To add to the woes, Hershey has been delivering weak performance in international markets since 2015, primarily due to soft results in China. Lower net price realization in international markets and challenges in China are expected to remain a drag on the soon-to-be reported quarter.

According to the Zacks Consensus Estimate, the company's North America (U.S. and Canada) segment revenues, comprising 89% of the total revenues, of $1.76 billion are likely to remain unchanged in the third quarter from the year-ago quarter. International and Other segment is likely to witness a decline of 0.01%.

Meanwhile, Hershey's adjusted gross margin and operating margin expanded 160 basis points (bps) and 270 bps, respectively, in the second quarter driven by favorable trade, supply chain productivity and costs-saving initiatives and lower input costs. The trend is expected to continue in the to-be-reported quarter as well. However, softness in sales and unfavorable mix are expected to hurt Hershey's margins. Again, higher advertising as well as selling, general and administrative (SG&A) expenses are expected to restrict the margins.

Overall, Hershey's bottom line is likely to benefit depending on its ability to increase prices, along with productivity and cost-cutting initiatives to offset lower volumes, flat sales, unfavorable mix and more advertising expenses and SG&A costs.

For the third quarter, the Zacks Consensus Estimate for earnings is pegged at $1.28, reflecting a decrease of 0.9% year over year, while the consensus for revenues is at $2 billion, implying 0.02% year-over-year growth.

Here is what our quantitative model predicts.

Hershey has the right combination of the two key ingredients — a positive Earnings ESP and Zacks Rank #3 (Hold) or higher — which is required to be confident of an earnings beat.

You can uncover the best stocks to buy or sell before they're reported with our Earnings ESP Filter.

Zacks ESP: The Earnings ESP for Hershey is +0.13%.

Zacks Rank: Hershey carries a Zacks Rank #2 (Buy), which increases the predictive power of ESP.
Hershey Company (The) Price and EPS Surprise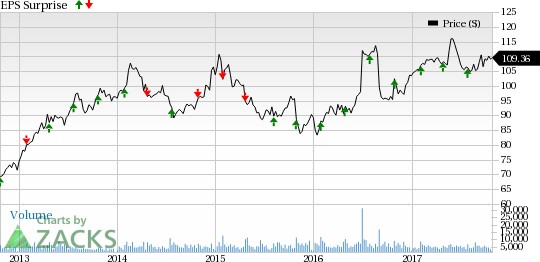 Hershey Company (The) Price and EPS Surprise | Hershey Company (The) Quote
Stocks Worth a Look

Here are a few consumer staples stocks you may consider, as they have the right combination of elements to post an earnings beat this quarter.

Mondelez International, Inc. MDLZ has an Earnings ESP of +1.40% and a Zacks Rank #3. The company is set to report quarterly results on Oct 30.

Coca-Cola European Partners plc CCE has an Earnings ESP of +1.01% and a Zacks Rank #3. You can see the complete list of today's Zacks #1 Rank (Strong Buy) stocks here.

The company is set to report quarterly results on Nov 7 before the opening bell.

Monster Beverage Corporation MNST has an Earnings ESP of +0.36% and a Zacks Rank #3. The company is expected to report third-quarter results on Nov 2.

Zacks' Hidden Trades

While we share many recommendations and ideas with the public, certain moves are hidden from everyone but selected members of our portfolio services. Would you like to peek behind the curtain today and view them?

Starting now, for the next month, I invite you to follow all Zacks' private buys and sells in real time from value to momentum...from stocks under $10 to ETF to option movers...from insider trades to companies that are about to report positive earnings surprises (we've called them with 80%+ accuracy). You can even look inside portfolios so exclusive that they are normally closed to new investors.
Click here for Zacks' secret trade>>
Want the latest recommendations from Zacks Investment Research? Today, you can download 7 Best Stocks for the Next 30 Days.
Click to get this free report
Coca-Cola European Partners PLC (CCE): Free Stock Analysis Report
Monster Beverage Corporation (MNST): Free Stock Analysis Report
Hershey Company (The) (HSY): Free Stock Analysis Report
Mondelez International, Inc. (MDLZ): Free Stock Analysis Report
To read this article on Zacks.com click here.