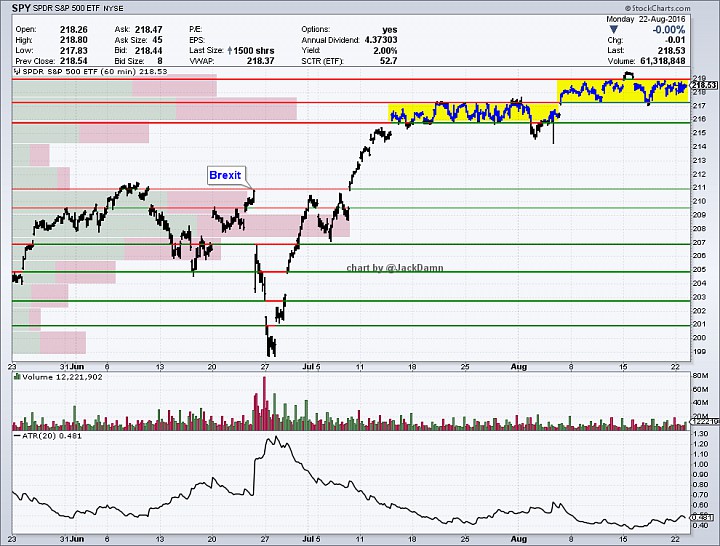 Well, we're making SOME progress.  
As you can see from JackDamn's SPY Chart, since gapping up in the 2nd week of August we've stayed tightly in this range between 2,170 and 2,190 on the S&P (and divide by 10 for SPY) which is up around 10% since the Brexit Panic, brief though that was at the time.  
Before then we were hovering around 2,010 so 2,020 is only up 5% and really, it shouldn't be THAT hard to manage, should it.  I hear again and again from the MSM and my fellow pundits how great everything is but, to me, "great" should have a much easier time of gaining 5% in a quarter – this is "good" at best…  
Of course, it's not quite so "good" when we consider that SPY, like the S&P, is priced in Dollars and those Dollars have become 2.5% weaker in the past 3 weeks and more than 5% weaker than they were at the start of the year, when the S&P was at 2,050, which is 6% lower than it is now.  So, in reality (I know, where is that), in constant Dollar terms, the market is only 1% higher since the start of the year since those Dollars you cash in your shares for have 5% less buying power than they did back then. 

If only we had all bought gold in January – or Natural Gas (which was our Trade of the Year), that trade is up 900%!  Speaking of trades, we were dead wrong on Best Buy (BBY) yesterday and they had a fantastic quarter and popped 15% to $38 pre-market this morning.  The way to adjust a short call is simply to roll it to a longer-term, higher strike and generally we roll the loss, not the whole amount.  I'll touch base in Member Chat in case anyone played them short.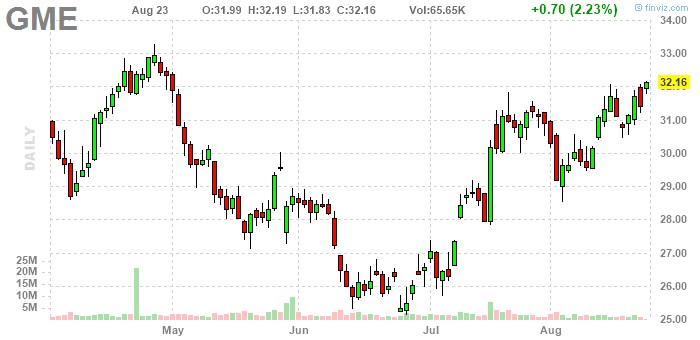 Inside of BBY's numbers were poor game revenues and that might bode ill for GameStop (GME), whose earning are Thursday, so another potential shorting candidate at $31.50 and the Jan $35 calls can be sold for $1.40 while the $37 ($7.25)/32 ($3.75) bear put spread is $3.50 so net $2.10 on that $5 spread has the potential for a $2.90 gain (+138% on cash) at Jan expiration if GME is below $32, which it is now.  
Our other earnings trade idea yesterday was bullish on TOL and we were conservative with the Jan $26/30 bull call spread offset with short 2018 $25 puts for a net $300 credit and that one is in fine shape as TOL hit our 0.61 earnings expectations but gave conservative guidance so no big pop but right on target for our trade that has a potential 1,433% upside to the $300 credit!
We're not going to win every earnings play, the trick is to keep our portions similar and keep our reward/risk ratio as high as possible.  Making 1,433% on one trade offsets a lot of losers – as long as you keep those bets proportional.  Speaking of bets, we had a good conversation about gambling vs. investing in our Live Member Chat Room this morning and today is one of those days where I do want to take a poke at shorting the Futures again.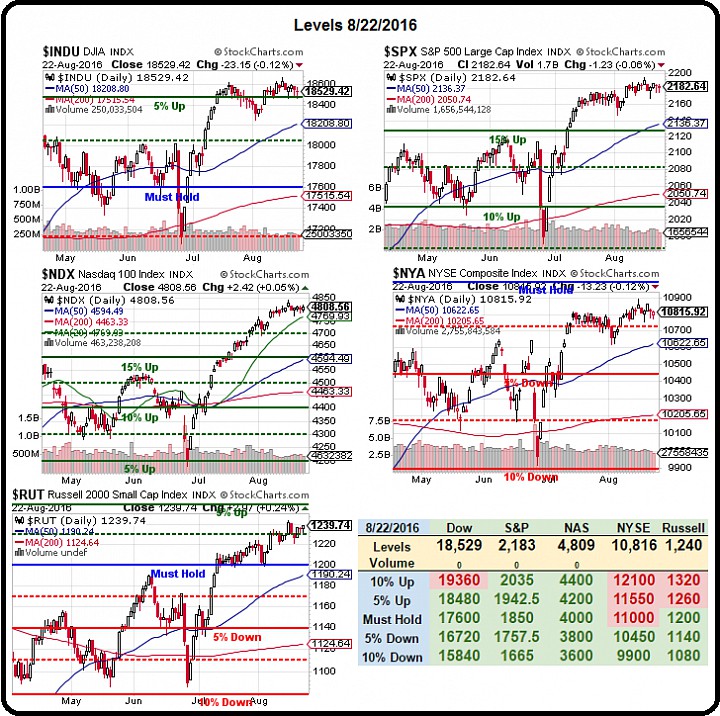 As you can see on the Big Chart, we're skimming along the 5% line on the Dow at 18,480 as well as the 2.5% line on the Russell at 1,230 so we need to see those fail before we will have any conviction to our shorts.  
Still, with the Dollar (/DX) down at 94.30, it should be bouncy here and there's no particular reason for the markets to go higher so I like shorting the Futures, with VERY tight stops, at the following levels:
Dow (/YM) 18,550, S&P (/ES) 2,185, Nasdaq (/NQ) 4,825 and Russell (/TF) 1,242.50.  We can't short the Nikkei (/NKD, now 16,550) because the Nikkei likes a strong Dollar, so it's too risky but a bounce in the Dollar back over 95 will drive Oil (/CL) and Gold (/YG) lower and knock down two big sectors of the S&P.  The way we play the shorts is we wait for 3 of 4 to cross below and then we short the 4th at which point if ANY of the indexes come back over the line – we kill the play.  Once our index drops under, we simply keep lowering the stops until we're forced to cash out.  
Oil has moved onto the October contract today (/CLV6) and it's just at the $47 line, which is very interesting but tough to play as it's near the middle of the $40 to $50 range we've been in since April.  On the whole, we are bearish on oil and feel it should be under $45 and we'll see what happens on tomorrow's inventories (10:30) but the only reason we rallied was over rumors of an OPEC production cut that simply isn't going to happen.    

As I noted, we're playing it with the USO Sept $11.50 puts at 0.52 from Friday's post and they are now 0.70 but we lost 0.32 on the Aug puts so we need 0.84 to get even.  We're playing the options contracts because it's far too dangerous to play the Futures in the middle of the range and the put contracts limit our losses should oil blast off – like it did earlier in the month.  
We'll have another Live Trading Webinar tomorrow at 1pm (EST) where we'll take a close look at Futures Trading.  In our last Webinar (Aug 10th), we initiated a bullish conviction trade at $1.57 (at 1:16:20 on the replay) and it got off to a poor start but now we're testing $2.75 and that's up $1,800 per contract, so I don't want to wait until tomorrow to say – TAKE THE MONEY AND RUN!!!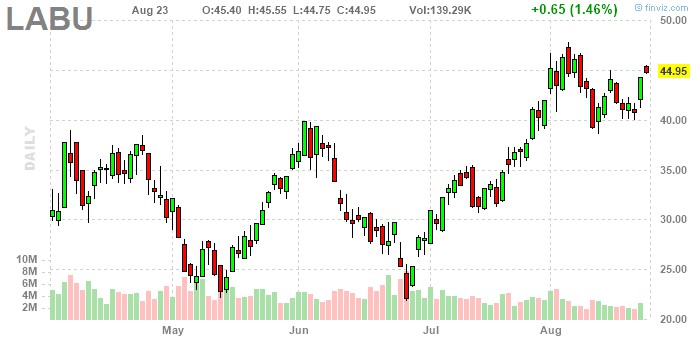 An alternative trade we discussed was UNG, which was $7.68 that day and topped out at $8 yesterday and that's up a very dull (by comparison) 4.2% in two weeks and we are still long-term bullish on UNG, which is still our Trade of the Year, though LABU replaced it as our Trade of the 2nd Half of the Year and boy has that flown, doubling up already since our pick.
So, as I said, just because we're holding a lot of CASH!!! on the sidelines in our portfolios doesn't mean we can't find plenty of things to play with.  In our Live Member Chat Room yesterday, we picked 6 Top Dividend Stocks with protective spreads to give retirement portfolios 10-15% annual gains in a very conservative manner – it sure beats buying a 10-year note for 1.5%!  Actually it was 7 trades as we later found a trade on Toyota (/TM) as well.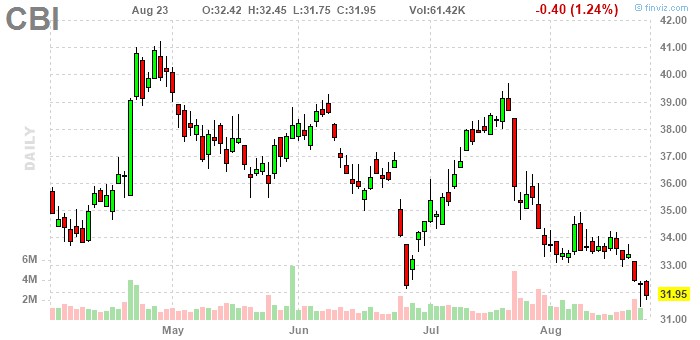 AAPL was another new trade idea for our Members in yesterday's Chat Room and that one was a Top Trade Alert as well and Pharmboy wrote a research note on Epizyme (EPZM) and we found a bullish play on that one as well using one of our options strategies and then we updated our bullish play on Chicago Bridge and Iron (CBI), also looking like a bargain at $32 and our new trade on that one turns a $500 credit in to $10,500 if CBI can get back to $40 by Jan $2018.
For you free readers, however, let's just say we like them long at $32.
Provided courtesy of Phil's Stock World.
Would you like to read up-to-date articles on the day they are posted? Click here to become a part of our growing community and learn how to stop gambling with your investments. We will teach you to BE THE HOUSE - Not the Gambler!